Submitted by: Frank Adams
Source: 1952 Centennial Program Booklet, Published by the City of Logan, WV.
FARMING AND HOMESTEADS
By Mrs. Florence Peck Adams
Beginning back in 1880, I remember Logan county as a very barren place to live. We lived some distance apart and did not visit very often. Most of the homes were built of logs and the cracks daubed with clay. The chimneys were built with native stone.
Driving through the country now, you can see a few of these old landmarks. Usually people had a "log raising" when they were ready to build their homes. A big dinner was the order of the day, and the men from far and near came and placed the logs. Then it was finished by whatever help could be obtained. A chimney and fireplace were built with a side hearth, where most of the cooking was done in pots and skillets with lids. To make bread, the raked the red coals of fire and placed a skillet on legs on these coals. The bread was put in the pan and then a lid was placed on the skillet and red hot coals on the lids. In a very few minutes the bread was ready, and you never ate better bread.
The mountains were full of game, both tame and wild, and the rivers were full of fish and frogs. The fishing was mostly done with pole, line and hook, and everyone who desired was privileged to "go a-fishing." Gigging was a great sport for the men, who would go in boats at night, with a large oil torch on the front end of the boat. With this light, the fish could be easily seen. It was not unusual for the boat to be full of fish, which the fishermen could divide among themselves. The fish were usually a very good and very good to eat. The biggest fish I can remember was gigged by my brother, J. E. Peck, Jr. He and another gentleman exhibited it on a pole held across his shoulder, and the tail dragged on the ground for more than a foot. This fish was taken from the mill pond at Peck's Mill.
There were a few homes built of brick and lumber in the town of Logan. Major Stratton's home was the first brick, and also the courthouse and jail. All others were of frame. Later the courthouse was burned and was rebuilt of stone, and later if burned again and was rebuilt in 1912 as it now stands.
Sawmills began to spring up over the country, and better homes were built, and people began to live in more comfort. A frame house was considered a big home, and today a few of these are still standing near streams.
Wells were fug, and usually springs afforded the drinking water. Houses of four or five rooms were being built and gave the county a more prosperous look. A few of these are still standing. P. K. McComas' home, near Peck's Mill, and Captain Hugh Toney's at Godly Crossing. These are almost a century old.
Every home had a little farm, and these were far apart. The fields, gardens and pastures were fenced, some with split rails, and some with stone and clay. In the farming times, you could see the men, women and children all busy in the fields. When the grain was ripe, it was gritted on gritters for bread. The only two water mills, to my knowledge, were the one owned by my grandfather, W. H. Peck, at Peck's Mill, and the other by Mr. Hick White at Crooked Creek. These two were always grinding, night and day, and supplied the country with their bread. The corn was brought by wagonloads to be ground. These mills have long since vanished, but are not forgotten.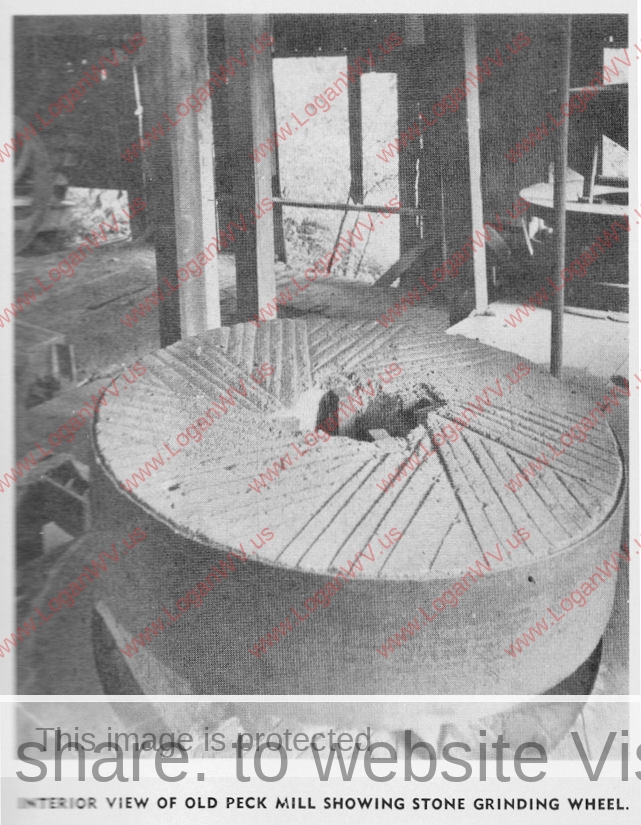 ~ ~
*Published by the City of Logan government and deemed not to be copyrighted. The content on this page is for educational purposes and is used in accordance with the Fair Use Law (Per Title 17—United States Code—Section 107). This is a not-for-profit website and absolutely no commercial gain is derived from its operation and publication by the owner.