The Logan Wildcats of Logan County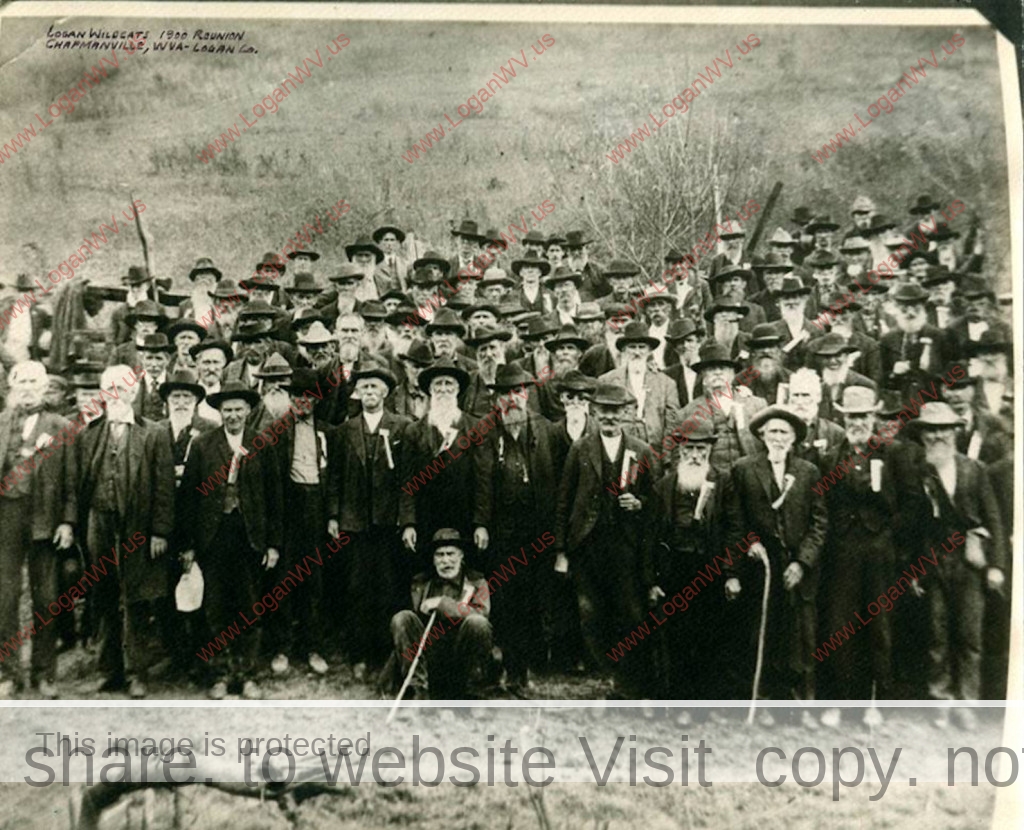 Confederate veterans, the "Logan Wildcats" 1900 Reunion at Camp Straton, Chapmanville, WV. Second from the left is Ed Garrett. Sitting is Alex Burton and behind him is Uncle Dyke Garrett, On Uncle Dyke's left is Henry Clay Ragland. Photo credit: Harlan Justice 430 Fifth Avenue, Huntington, West Virginia. Courtesy of Michele Ryan Kahle.
The Logan County Wildcats were a company of the 36th Virginia Infantry comprised of about 300 men from Logan County, WV. A group of Confederate irregulars formed by Anderson ''Devil Anse'' Hatfield also called themselves the "Logan Wildcats". Led by Devil Anse, they picked off dozens of Unions soldiers including Pvt. Harmon McCoy. Credit: www.wvencyclopedia.org.
Devil Anse had three brothers: Smith, Ellison and Elias. It's been reported that two of his brothers were also part of his Logan Wildcats guerrilla band. The youngest brother, Smith was born in 1853 and too young to be part of the Logan Wildcats. Ellison Hatfield was in the Battle of Gettysburg. When Lee surrendered at Appomattox on April 9, 1865, one of the young officers who surrendered his command was Lieutenant Ellison Hatfield. Therefore, this leaves only Elias as maybe being part of the Logan Wildcats guerrilla band.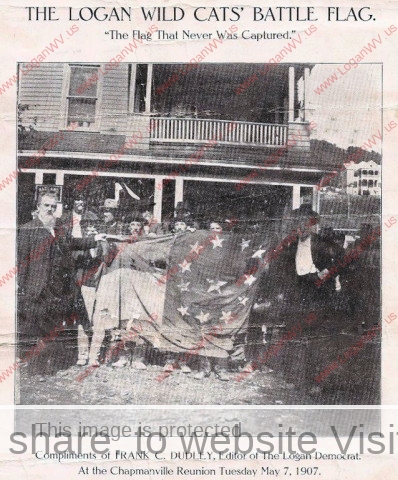 The Logan Wild Cats' Battle Flag. Courtesy of Connie Woods. Holding the flag on the left is Henry Clay Ragland who in 1888 started publishing the Logan Banner. Holding the flag on the right, is Astynax McDonald. "The flag was made by the wives and sweethearts of men from Peach Creek." — Dodie (Smith) Browning.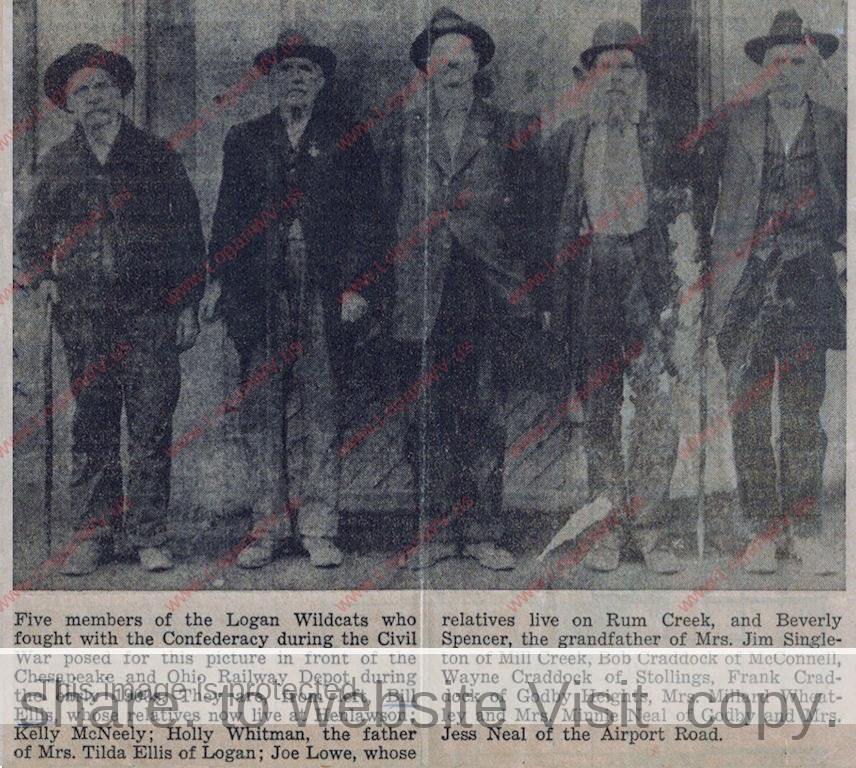 Logan Banner clipping courtesy of Vera Downs Sengstock.
Below is a partial list of the Logan Wildcats. We are trying to compile a complete list of the names.  Any help with additions and corrections will be greatly appreciated.  This list was gleaned from the Logan Banner articles of Oct. 2, 1903 and Feb. 26, 1904. A big thanks to Brandon Ray Kirk for searching through the Logan County Banner microfilm at the WV State Archives in Charleston to find these two articles.
Civil War Logan Wildcats
John W. Adams
Jim Allen
Wallace Averill
Hugh Avis
Enoch Baker
Floyd Barker
Eli Blankenship
Jno. Blankenship
Jno. Blevins
James Washington "Black Jim" Blevins
Jim Blevins
George Booth
Anthony Breeven
Mitchell Browning
John Bruster
Alexander "Zan" Bryant
Hiram Burgess
Alex Burton
F. Buskirk
Hugh Butcner
Lewis Cary
William Cary
Chris Chafin
Bill Chambers
Calhoun Chapman
Daniel R. Clark
Anderson Clendenon
Garland "Bock" Conley
Tom Conley
George W. Crump
Ed Dalton
Andy Dempsey
Mark Dempsey
Lorenzo Deskins
Floyd I. Dingess
Jim Dingess
Jerry Doss
Martin A. Doss
Perry A. Doss
William Duty
Bill Ellis
Simpkin Ellis
Shade Estep
Hensley Evans
Bill Farley
Jesse Farley
Thomas B. Farley
William Anderson Farley, Jr.
Windham Farmer
Fulton Ferrell
Richard Ferrell
Bush Floyd
Rufus Frye
Ed Garrett
W. Dyke Garrett
George Godby
B. S. Hager
Ryland Hager
Allen Hale
David Hale
Anderson ''Devil Anse'' Hatfield
Elias Hatfield
Jim Henderson
Charles Johnson
Dow Kelly
Henry Lake
Guy Lawson
John Lawson
Ed Lilly
John Liter
John T. Litten
Joseph Bradley Lowe
Bill Lucas
John B. Mangus
Thos. Maynard
James McCoy
Thomas McCoy
A. S. McDonald
Astynax McDonald
Boliver McDonald
Hamilton McDonald
Scott McDonald
Albert McNeely
Benfort McNeely
Kelly McNeely
Riley McNeely
John W. Neece
William Nelson
Jno. Messer
Mat Pauley
Dow Perry
John Peters
Joe Phipps
Dick Poindexter
Overton Price
Hiram Pridemore
Henry Clay Ragland
John Riffe
Lewis Sartain
George Scaggs
Allen J. Shepherd
Jacob Shadrach
? Simpkins
Dan Smoot
Ben Spencer
Beverly Spencer
Charles Stafford
F. S. Stafford
J. W. Stafford
Lorenzo Stallings
Charles Staton
Dow Steel
L. B. Stollings
R. J. Stollings
Madison D. Stone
Benj. Straton
John Suter
Andy Thompson
John Thompson
Moses Tiller
George W. Toney
Marvel Vance
Roll Vance
Henderson Wallen
Martin Wallen
John Walls
John Wessen
Harmon White
Jno. White
Rube White
Holly Whitman
James Hubbard Williams
Jeremiah Yates
---
Related links:
*The content on this page is for educational purposes and is used in accordance with the Fair Use Law (Per Title 17—United States Code—Section 107). This is a not-for-profit website and absolutely no commercial gain is derived from its operation and publication by the owner.