Rev. W. D. "Uncle Dyke" Garrett (1841-1938)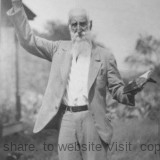 Rev. Uncle Dyke Garrett was a widely known throughout Logan County. His preaching career spanned 55 years. He was a Confederate veteran and a member of the famous Logan Wildcats serving under Capt. Anderson "Devil Anse" Hatfield. When Garrett became a preacher, he became renowned for baptizing "Devil Anse" and for his statement, "Today, I baptized the devil". Rev. Garrett also officiated at Devil Anse's funeral in 1921. William Dyke Garrett was born at Big Creek in Logan County on Dec. 10, 1841 and died on May 29, 1938 at the age of 96. He is buried at the Garrett Cemetery.
Charleston Daily Mail, Sat. Feb. 19, 1938
Uncle Dyke Garrett and Wife Of Logan, Married 71 Years
By Mary Yvonne Scales
Logan, Feb 19 – "If I married 50 times, I'd marry Sallie every time." That is the comment which is often made by Rev. W. D. (Uncle Dyke) Garrett about his wife, "Aunt Sallie" to whom he has been married 71 years today. For 62 years the two have lived on the site of their present home at Curry, near Chapmanville.
Uncle Dyke, a veteran of the Confederate army and a pioneer mountain preacher, was 96 last December. Mrs. Garrett celebrated her 90th birthday in November.
The Garretts are native Logan Countians, as were their mothers before them. Rev. Mr. Garrett's parents were the late John Garrett and Eliza Godby Garrett. Mrs. Garrett is a daughter of the late William Smith and Mary Ann Butcher Smith. "Uncle Dyke" is the only surviving member of a family which there were 11 children and Mrs. Garrett is the only survivor of a family of seven children. Seven of their nine children are still living. The include the following, according to their ages: Elbert E. Garrett, of Lake; P.D. Garrett, of Curry; Jim Garrett, who lives at home; Mrs. Scott Justice, of Huntington; Mrs. John Ferrell, of Logan; Mrs Virgil O. Duffin, of Louisville, Ky.; Miss Ida Rose Garrett, of Huntington.
Rev. and Mrs. Garrett have 30 grandchildren and 28 great grandchildren. Five of their children were born at the site where they now reside, in a log cabin, which was replaced about 27 years ago by a modern farm house.
"Aunt Sallie" was a young school teacher when she became Mrs. Garrett. She taught husband how to read the Bible, because at that time he could neither read nor write. Industrious by nature, she was seamstress for her whole family, and made her first dress when she was 13 years old.
More than half of "Uncle Dyke's" life has been devoted to public service, for which he refused to accept any financial remuneration. For more than a half a century, he went into the mountains "preaching the gospel," visiting the sick, marring people and holding funeral services. The high mark of his career came with the baptism of "Devil Anse" Hatfield of the Hatfield-McCoy feud fame.
It has been only within the past seven years that Uncle Dyke has given up preaching altogether. And it has been about three years since he quit making frequent visits to Logan, when a standing joke with him, on the occasion of meeting friends and acquaintances, was: "Yes, I came to town. But I must go back to Sallie—the girl I left behind me."
The couple enjoys having company. Not long ago a visitor inquired of Mrs. Garrett how a woman could manage to live with one man "that long." Never at a loss for a ready reply, "Aunt Sallie" answered: "By having the patience of Job and the wisdom of Solomon."
Obituary
Charleston Gazette, Mon, May 38, 1938
Rev. W.D. Garrett, 96, Dies in Logan
'Uncle Dyke,' Confederate Veteran, Passes Suddenly
Logan, May – (AP) – Rev. W. D. (Uncle Dyke) Garrett, veteran of the Confederate Army and a widely known mountain preacher, died at 3 a.m. today at his home near Curry, Logan County. He would have been 97 years old had he lived until December 10.
By his side at the end was his 90-year old wife, known throughout a number of West Virginia counties as Aunt Sallie. They observed on Feb. 19 the 71st anniversary of their marriage, which took place in Logan County where each was born and brought up.
Daughter Present – His Daughters, Mrs. Scott justice and Miss Ida Rose Garrett of Huntington and Mrs. John F. Ferrell of Logan, were present at his death. They had come for the Memorial Day weekend with no premonition of tragedy. Another daughter, Mrs. Virgil O. Duffin of Louisville, Ky., reached Huntington tonight en-route to Curry.
Also surviving are three sons, Elbert E. Garrett of Lake, Logan county, and Peter B. and James M. Garrett of Curry; 29 grandchildren and 31 great grandchildren.
Funeral services will be held at the residence tomorrow at 3 p.m. Rev. John Green McNeely will officiate. Burial will be in the family cemetery.
The son of John Garrett, whose father was one of the early settlers of Logan county. William Dyke Garrett was born , Dec. 10, 1841, in a farmhouse only a few miles from the scene of his death. When the war of secession came he enlisted under the Confederate flag and served there as a member of the famous Logan Wildcats.
Became Farmer – Returning from the war, he became a farmer. He married Miss Sallie Smith at the home of her father, William Smith of Crawley Creek, Feb. 19, 1867. Mrs. Garrett, recalled today that he played the fiddle and danced to his own music.
Sixteen years elapsed before he entered what was to be the distinguishing work of his life. He entered the ministry, in which he was to continue fifty-five years.
He became a familiar figure in Logan and surrounding counties, riding horseback from church to church. Sometimes he went afoot on his missions and his tall, spare form—he stood 6 feet 2 inches in his bare feet—was known to all the people of the mountains and valleys of the Guyandotte, the Big Sandy and Coal rivers.
As minister Mr. Garrett was know prominently in state and general conventions of the Christian church. Wider fame came to him as the minister under whose guidance the late Capt. Anderson (Devil Anse) Hatfield and a number of his sons embraced Christianity and were baptized, and also as the clergyman who officiated at Capt. Hatfield's funeral and burial in 1921.
*Photos courtesy of Lillian Porter-Smith.
You may also like: