By Jeff Wickland

Frank Hutchison was born in Raleigh County, West Virginia in 1891. The date of his birth cannot be verified but some sources claim he was born on March 20th. Soon after his birth his family moved to Logan County, West Virginia, where he spent much of his life. Before he began playing music professionally, he was believed to have worked as a carpenter, handyman, cook, and coal miner. According to an unnamed Logan County musician, Hutchison walked with a limp, possibly as the result of a mining accident.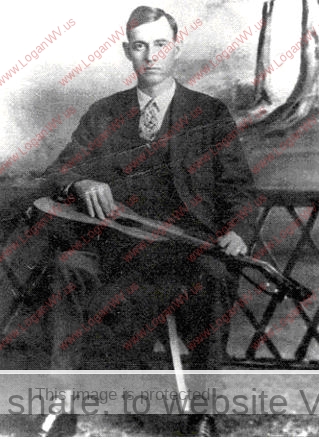 Hutchison's recordings reflected the diverse tastes of the 1920's, with musical styles that included traditional folk, country, hillbilly blues, murder ballads, waltzes, ragtime, piedmont blues, gospel and delta blues. He was considered to have been one of the first white bluesmen to have recorded in the pre-war era.
Hutchison was best known for his slide guitar style on pieces such as "Train Carried My Girl From Town," "K.C. Blues," and "Worried Blues." While many blues players used a bottleneck to play slide guitar, Hutchison played lap style, laying his guitar across his lap and playing slide with a pen knife.
Hutchison likely was influenced by African Americans who emigrated from the Deep South to work in the southern coal fields of West Virginia. Henry Vaughn, a black railroad worker who befriended Hutchison at 8 years old, is believed to have been an early inspiration. Bill Hunt (or Hurt), a crippled African American who began playing coal camps around 1910, is thought to have been a large influence and may have taught Hutchison much of the repertoire he later recorded.
Frank Hutchison recorded from 1926 to 1929, although it is unclear how many songs he recorded. Some sources claim as many as 41 but only 32 have been preserved.
In September 1926 Hutchison traveled to New York City to record for Okeh (pronounced "Okay") Records. After the initial success of his first recordings he returned in January 1927 to cut nine additional songs, including "Last Scene of the Titanic," a retelling of the disaster which had occurred only 15 years earlier. During this period Okeh Records marketed Hutchison as "The Pride of West Virginia."
In 1928 Hutchison returned to New York City with Logan County fiddler Sherman Lawson, the only other musician who appeared on a studio recording with Hutchison. Although he did not record with any artists other than Lawson, it is believed he often played with fellow Logan County musicians Dick Justice and The Williamson Brothers & Curry.
Frank Hutchison's final commercial recording took place on September 24th and 25th, 1929 in Atlanta, Georgia as part of the Okeh Records Medicine Show, which was recorded as a three disc album of music and comedy. The show also featured Emmitt Miller, Fiddlin' John Carson, Namour & Smith, Moonshine Kate, Bud Blue, The Black Brothers, and Martin Malloy.
Like many musicians of his time, Hutchison's career abruptly ended in 1929 with the crash of the stock market and the onset of The Great Depression. After his music career ended, he and his family temporarily relocated to Chesapeake, Ohio but soon moved to Lake, West Virginia, where Hutchison reportedly ran a store and was postmaster. During this time it is also believed he worked as a steamboat entertainer. In 1942 the store burned down and the Hutchison's moved to Dayton, Ohio. Frank Hutchison died Nov. 9, 1945 from liver disease.
Although Hutchison's career was short lived, his influence has been surprisingly large. Folk icon Doc Watson cited Hutchison as an influence and routinely performed "Train Carried My Girl From Town." Modern folk legend Kelly Joe Phelps recorded the track as well, which appeared on his 1999 album Shine Eyed Mister Zen. Folk revivalists The New Lost City Ramblers were known to have covered Hutchison's "Coney Isle." In 1960 Lloyd "Cowboy" Copas reworked "Coney Isle" and titled it "Alabam." Copas' version of the song spent 12 weeks as the number single on the Billboard Hot Country & Western charts. Hutchison's "Stackalee" appeared on Harry Smith's Anthology of American Folk Music, a collection which went on to inspire the folk revival of the 1950's and 60's.
In 1997 Document Records released Frank Hutchison: The Complete Recorded Works Volume 1 1926-1929. In 2005 JSP Records released the box set Worried Blues, featuring all 32 tracks recorded by Hutchison as well as music from The Tenneva Ramblers, The Blue Ridge Highballers, and Kelly Harrell. His work has also appeared on several compilations including Early Recordings of West Virginia, Mountain Blues and Old Time Guitar, American Folk Music Volume 1, Songs of the Railroad 1924-1934, and Black, White and Blues.
*Information for this bio was collected from various sources, some of which conflicted and many of which cannot be verified. Any corrections of names, dates, locations, etc. will be gladly accepted.
---
Logan County Blues by Frank Hutchison

Frank Hitchison Facebook Page