By Dave Holland
Benjamin Otto Holland and his younger brother, Bruce Leonard Holland were prominent businessmen & politicians from Aracoma (now Logan – changed in 19071) in the 1890's and early 1900's.  Benjamin Otto Holland (B.O. Holland) was born 9 Mar 1867 in Monongalia County, WV to William S. & Agnes Jane Selby Holland. On 6 Jun 1891 B.O. married Mary C. (Caddie, Katy ?) Bortz in Calhoun, WV.  They moved to Aracoma where they had a son, Thurl Otto (T.O.) Holland on 9 Jun 1893. According to family tradition, Mary died when young Thurl was four, in about 1897. The cause of her death and her burial location are unknown. I would welcome any information about Mary/Caddie.  Interestingly, another child was born in July 1895, and died 27 days later of Cholera Infant-um. His name was Leo Paul Holland, and he was buried "near Logan C.H." according to his death record. His parents are not identified, but could well be B.O. and Mary. His birth occurred two years after their first child, and there were very few other Hollands in Aracoma at the time. If any additional records exist about Leo, they might shed some light on his mother's identity.
The US Census of Aracoma for 1900 lists B.O. as widowed, Occupation – Merchant, and as a boarder living in the J. Bitt Buskirk home. Shortly thereafter he married Annie Robertson in Guyandot, WV on 6 Jun 1900.
On Jan 15, 1901 he was a founding member of the Robertson Mercantile Co. Other incorporators were S.B. and G. L. Robertson ( probably relatives of Annie's), J.W. Chambers, and C.H. Gore. In 1903/04 B.O. served as West Virginia State Senator from the 8th district. He was involved in a barroom brawl in 1905. The incident was reported in local newspapers:
 "A fruitful topic of discussion in the lobbies today is the scrap that occurred in a saloon near the capitol between ex-Senator B. O. Holland, present postmaker [sic] at Logan, and Obe Petty, republican boss in Kanawha county, who resigned from the Charleston post office under a cloud of serious charges brought by women employees of the office. Holland, who was sore over his defeat for sergeant at arms, in the senate, engaged in an alternation [sic] with the Charleston man, which quickly developed into a furious fist fight, in which the Logan man received the worst of the deal. Holland is in bad shape, but his injuries are not deemed serious." (100 Years Ago, January 3rd by Brandon Woolum, Huntington News)
Annie Robertson Holland died in 1903 at the age of 26 and was buried in Spring Hill Cemetery –  Huntington, WV. In 1905 B.O. was married for the third time to Caroline Temperance Freer in Huntington, WV. Relatives of Caroline's are believed to have founded the Freer Art Gallery at the Smithsonian, however, proofs remain to be established.
In 1906 B.O. founded the Holland Dry Goods Co. Other incorporators were U.B. Buskirk , S.B. Robertson, R.L. Shrewsbury, and Caroline Holland.
The 1910 Census lists his residence as Broad St. and his occupation as Postmaster. His younger brother, Bruce Leonard served as Assistant Postmaster for several years with him.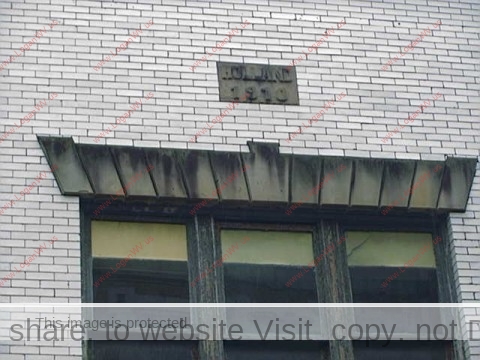 The facade of the former G.C. Murphy store on Stratton Street has a plaque reading "HOLLAND 1910".  It is possible that this building belonged to either B.O. or his brother Bruce Leonard Holland.   The records about B.O. seem to end with the 1910 census. I searched for several years, but was unable to learn what had become of him. B.O. Holland lived his whole life in West Virginia. Since all my ancestors on both sides came from WV, I never searched anywhere but WV. Then one day while idly  surfing various genealogy resources I came across the Ohio deaths index. Just out of curiosity I typed in the last name Holland with various date ranges. When I tried 1916, up popped B.O. Holland! I was quite surprised. It turns out that he had moved from Logan to Cincinnati in 1916, and had died just a couple of days after he arrived. Even more surprising, he was buried in Spring Grove cemetery, 12 minutes from my office in Cincinnati. The next day, I hopped in my car at lunch time, drove down to Spring Grove, and after about 10 minutes of searching, found his grave. His record is at Find A Grave Memorial# 36314219.
He was actively involved with both the Buskirk and Robertson families. Since Urias B. Buskirk left Logan for Cincinnati in 1910, it is possible that B.O. went to Cincinnati in 1916 either based on U.B.'s recommendation, or maybe to join him in a business venture. Perhaps conditions in Logan in 1916 were growing troubled, as the Battle of Blair Mountain was only five years down the road. U.B. and B.O. may have seen the handwriting on the wall, and headed for greener pastures.
1Logan County History by West Virginia University