Joni Terrio designed the banner
WELCOME HOME!!!
THIS PAGE IS DEDICATED TO ALL VIETNAM VETERANS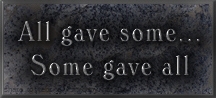 GOODBYE MY DARLIN' HELLO VIETNAM
written by: Tom T. Hall – ca 1964
Recorded by: Johnny Wright, husband of Country Music singer Kitty Wells
Kiss me goodbye and write me when you can.
Goodbye my darlin', hello Vietnam.
America has heard the bugle call,
And you know it involves us one and all.

A ship is waitin' at the dock,
America has trouble to be stopped.
We must stop Communism in that land,
or freedom will start slippin' through our hand.
I hope and pray someday the world will learn
That fires we don't put out will bigger burn.
We must save freedom now at any cost,
or someday our freedom will be lost.
Kiss me goodbye and write me when you can.
Goodbye my darlin' hello Vietnam.
When Donald was shipped to Vietnam in 1965 he believed in those words. However, when he returned to America in 1966 he was in for a shock.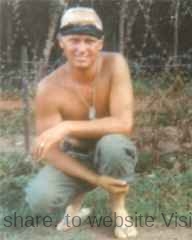 SP/4 DONALD DAVIS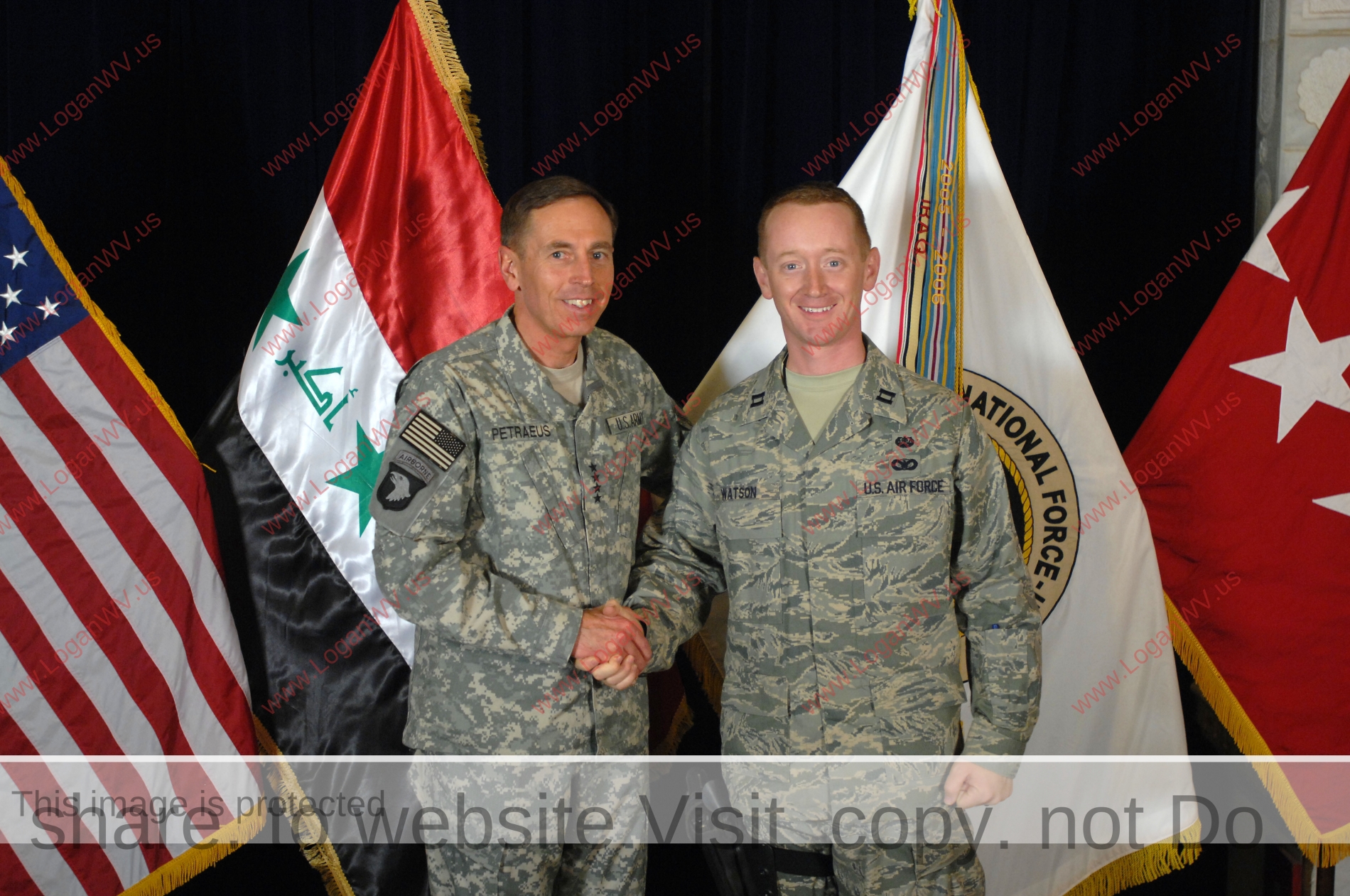 Our son-in-law, Captain Daniel Watson and General David Petraeus in Iraq. Captain Watson is a JAG serving with the United States Air Force. Our daughter, Heather and children, Sam and Ben await his safe return in Hawaii.
THE PRESIDENT IS DEAD
I will never forget hearing Walter Cronkite's choked voice announcing over the radio, "The President of the United States is dead. I repeat . . . the President of the United States is dead." It was November 22, 1963. Anyone who lived through those days remembers just where they were when they heard the shocking news of President John F. Kennedy's assassination. Shortly after the president's death, the Vietnam War began to escalate. My husband, Donald Davis, got his greetings from President Lyndon Johnson the following March. He was twenty-three years old, and considered an "old man." Most draftees were eighteen-year-old kids fresh out of high school.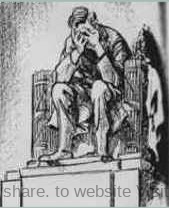 OUR NATION MOURNS
Pulitzer prize-winning cartoonist Bill Mauldin's drawing of a grieving Abraham Lincoln eloquently expressed the Nation's sorrow of losing President John F. Kennedy to an assassins bullet.
From my journal: June 18, 1990, Monday. I trudged up the hillside in the heat at Arlington Cemetery to visit President Kennedy's grave. I was surrounded by hundreds of rows of small white marble headstones that gleamed in the bright sunlight. They marked the final resting places of heroes who served and died for our Country. . . . And there high on the hill in section 45 was the "eternal flame" that marked the grave of our slain President's grave, John Fitzgerald Kennedy. I, along with millions of other Americans, watched his wife light that flame on TV as a tribute to his memory in 1964. I was glad that flame still flickered after all these years.
Donald's MOS was demolition. He served with the First Infantry which is sometimes called The Big Red One in 1965-1966.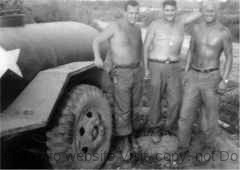 Donald with a 33 inch waist and a Vietnam tan. – December 1965 – On his left are SP/4 Ronald Roland and (supply) Sgt. Adkins.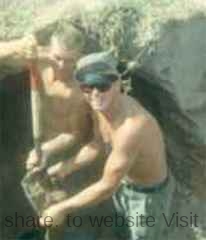 Feb. 1966 Donald wrote, "I just thought I had worked hard before today. All we do is move around and dig holes. I was so tired when I went on guard last night I think I dozed off for a few minutes." Tommy Thompson with the shovel.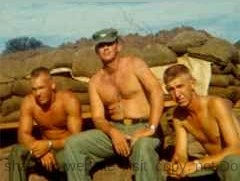 SP/4 Adkins, Sgt. Clifford Stricker, and PFC Cody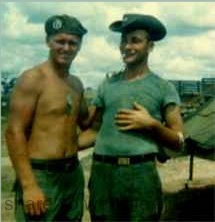 SP/4 Donald Davis with demo buddy, Amos, who was better known as "Kansas City Star."
THE WALL
From my journal: June 18, 1990, Monday. I stood near the eight-foot bronze statue of three infantrymen whose lifeless eyes stared at the great black granite wall spreading out in front of them. As I walked toward America's "Wailing Wall" bearing 58,175 dead and missing it seemed to rise up out of the ground like a Phoenix rising from the ashes. It took my breath away. I remembered the sadness I felt watching the dedication on TV on Veterans Day in 1982. But TV never prepared me for this. The Wall stretched so far . . . And each name etched upon that wall left a trail of broken hearts.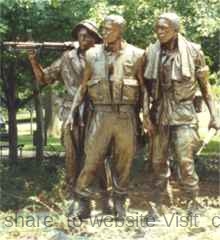 The heat of the noonday sun drained all my energy, or was it the feeling of death that surrounded me? I watched as sad-eyed vets, dressed mostly in jungle fatigues, touch the dead Wall and their reflections stared back at them. People of all ages gathered around looking for the names of loved ones on the silent Wall. No one took notice when someone sobbed out loud. They were lost in their own memories. I walked along the front of the 250-foot-long Wall watching people gently laying down tokens of affection near fallen heroes' names. Among the tokens was a single rose, a special picture, a written message, a fluffy teddy bear, a shiny medal, a set of dog tags, and a small American flag.
Like others, I took rubbings from the Wall. PFC Donald C. Piper, nineteen, (panel 5E Line 74) from Virginia. Donald gave him his bunker, and Piper was killed on Donald's birthday. SP4 Russell L. Hamilton, nineteen, from Kentucky, (panel 7E line 25). Hamilton helped drive us home when the First Division got orders for Vietnam. And Major Charles R. Kesterson, thirty, (panel 7E Line 26) also from Donald's company. I was glad I came, and I understood why Donald couldn't. It would be like visiting his friends' graves and he wasn't ready for that kind of pain. Perhaps Donald will never be able to go there. As I walked away, the Wall grew smaller in the distance, and I knew I'd never forget the sacrifices so many made.
Major Charles R. Kesterson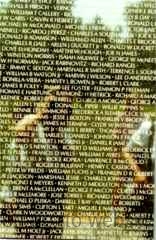 My reflection stares back at me as I focus my camera on PFC Donald C. Piper's name.
Note: It has become a ritual for visitors to leave letters and artifacts at the Wall, and the collection itself has become a memorial. The National Park Service, which maintains the memorial, collects and catalogs everything left there and stores them in a climate-controlled warehouse in Lanham, Maryland.
HEALING THE WOUNDS
From my journal: August 19, 1988, Friday. I was excited by the national reunion of Vietnam veterans called Firebase Cleveland. It was a three-day celebration, including a "Welcome Home Parade" for all Vietnam Veterans. The traveling Vietnam War Memorial, a half-size replica of the one in Washington, would be open to the public during the reunion and I was anxious to see it.
I turned on the evening news hoping it would persuade Donald to go. We watched Mayor George Voinovich (now Governor of Ohio) give the opening speech, at the Cleveland Convention Center, to about 4,000 veterans and members of their families. Then a disturbance broke out when protestors distracting from the ceremony, waved placards, handed out leaflets, and chanted anti-war slogans. Some wounds from the past were rubbed raw by such disregard which sparked a deep well of emotions and hurt feelings among many veterans. There was shoving, pushing, and a few punches were thrown, but police quickly scattered the misguided protestors, and the vets returned to the ceremonies. Police had been carefully selected for the weekend. All were Vietnam vets. They were determined to keep troublemakers at bay, so the Vietnam veterans attending could have their day of recognition and appreciation.
Donald was shaken by the demonstrators, but an hour later we were both pushing through the crowds. "No one had better jump up in my face," he had said as we drove there. I hoped and prayed no one would.
We were fascinated by the many displays featuring T-shirts, hats, posters, patches, dog tags, movies, and pictures. We had never seen such a collection having to do with the Vietnam War. It left a lump in our throats when we witnessed the affection many vets displayed as they hugged one another. I bought T-shirts, and Donald bought a black hat with a "Big Red One," emblem, which was his division in the Army. When he put the hat on his head, it was like someone turned a spotlight on him. Fellow vets began to slap him on the shoulder saying, "Welcome home, brother, "and "What class were you in?" The vets' friendliness helped him relax and feel a part of the activities.
August 20,1988, Saturday. Donald was in a lot of pain this morning, but we left for the Cleveland Stadium to gather with other vets to assemble for the parade. He wore the Big Red One hat and an old Army shirt he wore in 'Nam, but refused to wear his dog tags, so I wore them. I also wore a T-shirt that said "History will remember the war . . . will America remember her men? "Families were invited to march along with their vets. Donald swallowed some pain pills, and we marched side-by-side behind the West Virginia banner. He later dropped back and marched with the First Division, his unit. I slung both my cameras around my neck, and snapped pictures as I walked along the winding parade route.
At the first sight of marching soldiers the crowd broke into applause. The vets answered back with high-fives in the air. I blinked tears back when I saw Donald raising his fist right along with the rest of them. By the end of the day, I had sun-grin from smiling so much.
People lined the streets, hung from office windows, yelling, "Welcome Home," and "Thank You." Tearful bystanders of all ages ran into the streets, embracing strangers, welcoming them home. Veteran units from many states marched along with South Vietnamese soldiers and with vets from Canada and Australia. Some carried flags, and one waved a placard proclaiming Jane Fonda was not dear to his heart. They did not march in military precision; it wasn't expected of them. Some marched in full dress uniforms, but most dressed in grab bag fashion, in camouflage outfits, jeans, T-shirts, boonie hats, or ragged outfits left over from their war. They rode in trucks, vans, fire trucks, convertibles, and eight veterans rode their Harley-Davidisons. Just behind us was a one-legged vet, carrying a flag in his lap, being pushed along in his wheelchair by another vet. A veteran, clad only in shorts and a T-shirt, pulled his two small children along in a wagon. A few rode in open jeeps, swilling beer, and having a smoke, while music from the sixties blared from their speakers. A bearded vet cooped up in a small bamboo cage was pulled along the parade route as a reminder of those still missing in Southeast Asia.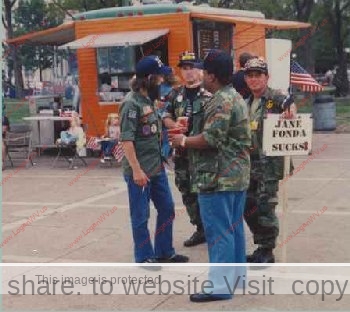 Jane Fonda placard
I overheard someone say that high on a hill overlooking the parade protestors unfurled their banners, but I never looked. I was told they left without another incident and were ignored and largely unnoticed. The parade ended at a nearby park overlooking Lake Erie, where more embracing, dancing, eating, and drinking took place. Before the day's celebration was over, many tears were shed, old friendships renewed, and I never hear a harsh word spoken.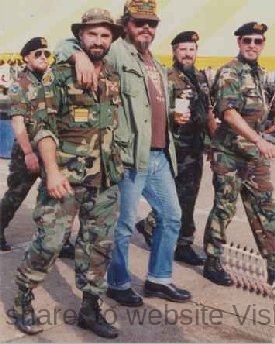 County music singer, Roger Martin, second from the left. He has since passed away.
There were food booths and entertainment for everyone. But one of the highlights of the day was hearing county-western singer, Charlie Daniels sing "In America," as a special tribute to all who served. He flew into Cleveland on his way to a singing engagement just to pay honor to them.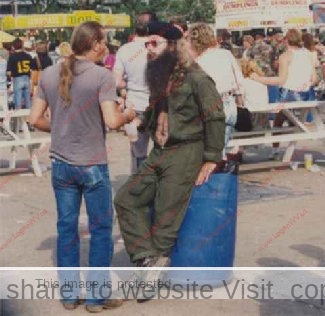 Bearded vet
Donald and I spent the afternoon sitting on a picnic table in the warm sunshine, basking in everyone's happiness. He was surprised to be met by a handshake from someone from his division who went over on the boat with him. His buddy, wearing the same hat with the "Big Red One" emblem, had picked him out of the crowd because of his hat, never dreaming their lives had touched twenty-three years before.
Donald taking in the site
We left long before the festivities were over, because Donald was tired and in pain. Like many vets, Donald had traveled 30,000 miles back from Vietnam, but emotionally never quite made it home. Finally, today his journey ended in Cleveland with the "Welcome Home Parade."
A TRUE FRIEND TO ALL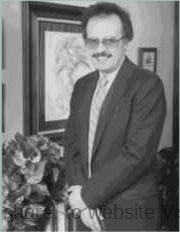 Walter P. Knake, Jr., PhD. – Clinical Psychologist
Dr. Knake is a true friend to Vietnam vets, and holds group sessions twice a week at his office to help them work through their pain. When Donald was going through PTSD just the sound of Doc's voice calmed me down. Donald said, "If it wasn't for Doc I wouldn't be alive today."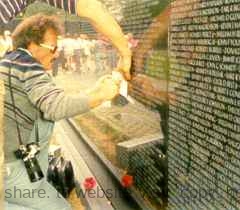 Dr. Knake takes a rubbing from the Wall of his cousin, Lloyd Knake. Doc made a special trip in October 1986 to the Wall with vet, Joe Tarnovsky and Joe's wife, Cecelia.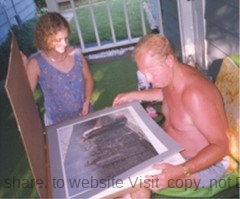 Heather presents a picture of The Vietnam Wall to her dad on Father's Day 1994
The Father's Day gift was from all our children: Alisha, Donnie, Kristy, and Heather
THE HONOR ROLL
In the fall of 1965 the Logan Banner posted an address list of servicemen who were serving in Vietnam. They called the list "The Honor Roll," and they updated the list every few days. I was weary of watching protestors wave their signs of protest on television, so I send a Christmas card to each one on that list to let them know all of America hadn't forgotten them even though I didn't know anyone on the list. I included my husband's address with a note that said, "Logan County's hopes and prayers are with you." I received forty-eight letters from forty-one servicemen. Six of them wrote more than once. They wrote of shattered marriages, broken relationships, and of the fear they faced each day. I have located eight of those men, of which seven are still living. All of them were amazed when they read their letters . . . and none of them remembered writing to me.
To view a list of Logan County men serving in Vietnam in 1965, and read excerpts from their letters please click on the link below.
LETTERS FROM THE LOGAN COUNTY HONOR ROLL
Read the following stories: How Times Have Changed, A Message From Kristy, and Military Annoyance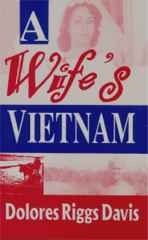 This book is a testimony of how our family dealt with Post- Traumatic Stress Disorder. I wrote it for all . . . for those who served . . . those who waited . . . and for anyone who lived through that painful era. Dolores Riggs Davis
OTHER VIETNAM PAGES
---