Harris Funeral Home – 1952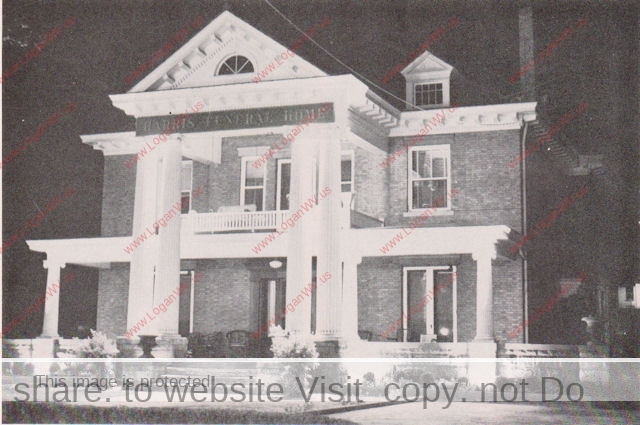 Forty-Three Years of Service
By Bruce Harris, Harris Funeral Home, 1952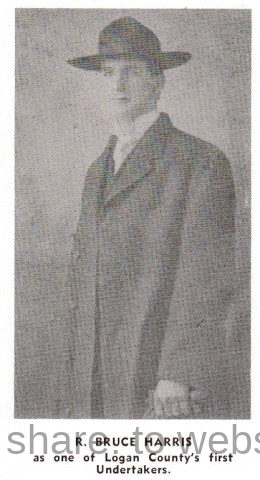 I have seen the county of Logan grow and change over a period of forty odd years. My profession has grown and changed also, from the time when I would ride horseback up and down the creeks of Logan county. In those early years, I would go into the homes to prepare someone's loved one for burial, carrying the instruments of my profession in saddlebags. Some of the friends, who were handy with carpentry tools, would make a casket, and the last rites would be preformed before I could return home,
These trips were shortened considerably when railroad transportation was reached throughout the country. Then, it was possible to go to the homes and return all in the same day. With the event of adequate highway transportation, we were able to start giving real services to our people. The third floor of the Logan Mercantile was converted into funeral parlors, and the first semblance of present day funeral service was started.
On Sunday, September 6, 1931, the present Harris Funeral Home was dedicated to the people of Logan county. Of course, changes have been made to the present structure since that time. New personnel have been added, as we have lost old, for we, like everyone else, must give up those who are with us. My brother, B. C. Harris, who founded the business in 1909, Rev. J. Green McNeely and Joe Wolfe, who were associated with us for a long number of years, have passed on. However, capable and competent men have taken up the work where they dropped it.
As I see it, Logan county's history has been great, the men who have worked played and died here have carved into these hills a monument to themselves. However, the future of our county holds promise to grow even greater, and I'm sure the next hundred years will be more eventful than the last.
Source: 1952 Centennial Program Booklet, Page 30. Published by the City of Logan, WV.
∼∼∼
The Harris Funeral Home served Logan County from 1908-1966. Before being used as a funeral home, it was the home of John B. and Rebecca Chafin Wilkinson. In 1895 during the home's construction, eleven Native American skeletons were exhumed. John B. Wilkinson died Aug. 12, 1919 and was buried in the Straton Cemetery. In 1966 Joe and Dolores Honaker purchased the business and the name was changed to Honaker-Harris Funeral Home. In 1973 after the passing of Greta Harris, the name was changed to Honaker Funeral Home. Sadly, Joe D. Honaker died in 2006. His wife and son, Michael now run the family business.
Honaker Funeral Home 3-25-2014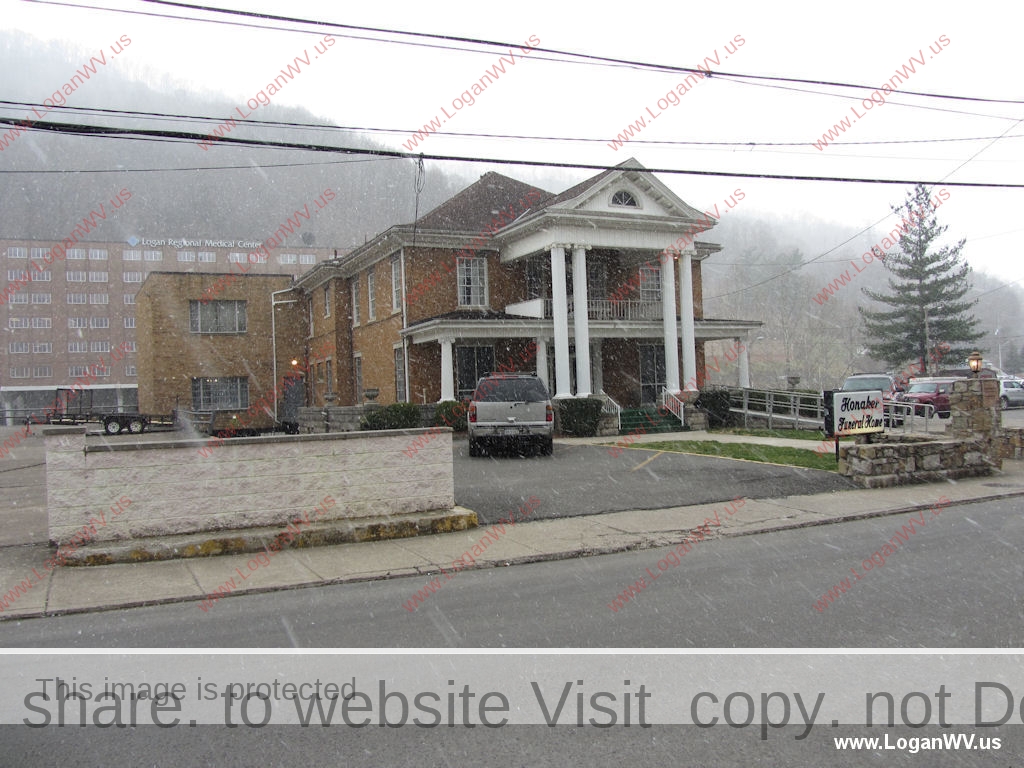 The content on this page is for educational purposes and is used in accordance with the Fair Use Law (Per Title 17—United States Code—Section 107). This is a not-for-profit website and absolutely no commercial gain is derived from its operation and publication by the owner.
If you are seeking family information, you can leave a comment on the Connect with Relatives page.