Originally posted on March 23, 2011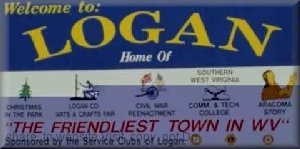 Logan County is located on the Guyandotte River, and nestled in the Appalachian Mountains with an elevation of six-hundred and sixty-two feet. Logan County was once called "The Billion Dollar Coal Fields." Those days have vanished just like the coal camps where we once lived. On this page, I hope to recreate that world where we once lived with stories and pictures from the past.  – Dolores Riggs Davis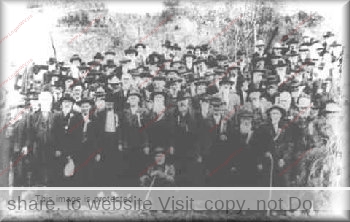 MEMBERS OF THE LOGAN WILDCATS 36TH VIRGINIA INFANTRY TAKEN LONG AFTER THE CIVIL WAR. WILLIAM DYKE GARRETT STANDS IN THE MIDDLE BEHIND THE MAN WITH A CANE
Garrett was a Hardshell Baptist, and was known in the hills of Logan County as "The Mountain Preacher" and "Uncle Dyke." He fought for the South beside Devil Anse Hatfield in the Civil War, and for many years tried to convert his friend. The murder of his son's Elias and Troy broke the seventy-two-year-old feud leader's heart. It was then Uncle Dyke added Hatfield to his list of converts. On a Sunday Uncle Dyke baptized Devil Anse in the waters of Main Island Creek. His sons Johnse and Cap where also baptized, and the Hatfield's stacked their guns.
Most of the Logan County citizens who joined the 36th Virginia Volunteer Infantry, Co. D. under Colonel John McCausland were from Virginia, and were sympathetic to the southern cause. Colonel McCausland later became Brigadier General and the 36th Infantry were involved in at least 85 engagements in 1864 alone. Mingo County was then a part of Logan County. The unit was famous for "deeds of daring," and they were known as the "Logan County Wildcats." They enlisted in June 1861, and remained until the end of the war. The Wildcats took part in sixteen major battles. The largest unit to be organized in Logan County was the 45th Battalion in August of 1863 when 287 men enlisted. Seventeen direct descendants of Valentine Hatfield, including "Devil Anse" and his father "Big Eph," were part of that battalion. The Civil War started on April 12, 1861 and ended April 9, 1865. In the 1890 census of Logan County it listed 56 Union Veterans, so there was Union sympathizers in Logan County.
Source: The Hatfield and The McCoys by Virgil Carrington Jones. The Logan Banner files.
LOGAN ARTIST
Logan County native, Roger Williamson is an artist who is well-known for his paintings on coalminer's hard hats. In 1982 he did a limited edition lithograph print of the old Logan CourtHouse. Roger is now working with an AB airbrush that is normally used as a photo touch-up tool to recreate a series of pictures which he calls "The Coalfield Collection." Below are two examples of his work. For further information call 304 752-0657 or write Roger Williamson, 715 Stratton Street, Logan, WV 25601 or visit RogerWilliamson.com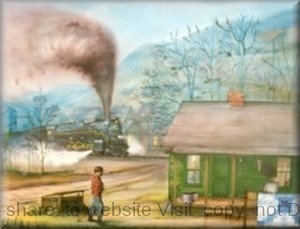 Coming Home
Painting©byRoger Williamson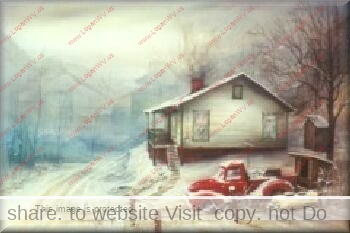 Getting In The Coal
Painting©byRoger Williamson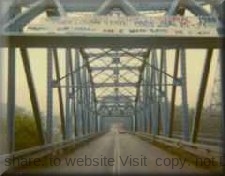 THE LOGAN WATER STREET BRIDGE IN 1988
The Water Street, often called the Blue Bridge, came tumbling down April 10, 1999 at 6:30 in the morning to make ready for a new bridge.  A bridge off Rt 10 by Wilson Cleaners gives access to the high school and city of Logan.
Click on any of the thumbnails to see the full-size images and descriptions.