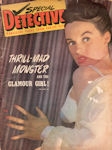 Special Detective Magazine
Published Quarterly by Detective House, Inc.
Oct. – Nov. – Dec. 1947
THRILL MAD BEST AND THE GLAMOUR GIRL!
Quiet men stalk the quiet hills — they know the secret of the hoary corpse in the hollow . . . But they keep the code of the hills — silence!
---