Updated March 13, 2011
On November the 15th, 2010 the Aracoma Hotel suffered heavy fire damage.  On Thanksgiving Day the Cole and Main Street corner of the building collapsed.  Consequently, the building was demolished about a month later.
The Aracoma Hotel was built in 1917 and was a historic Logan landmark. Over the years, the hotel has hosted a number of prominent guests including John F. Kennedy, Eleanor Roosevelt, Roy Rogers and Gabby Hayes. Read the Aracoma Hotel History by Martha Sparks.
The old Pioneer Hotel was located on the other side of Cole Street.  It was built in 1902 and was demolished in August 2007.
Aracoma Hotel fire in downtown Logan, WV 11-15-10
httpvh://www.youtube.com/watch?v=nm9s-HQ_Dj4
Aracoma Hotel Collapse Corner of Cole and Main Street 11-25-10
httpvh://www.youtube.com/watch?v=dcN59phT8qw
I wish to express my sincere appreciation to the individuals that shared the above two videos to YouTube.  Thank you.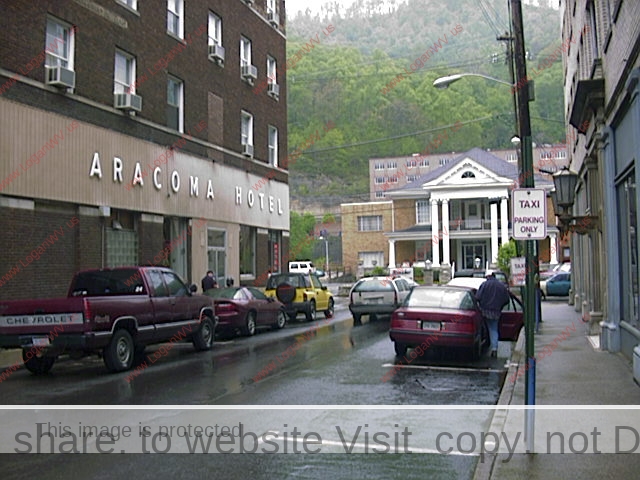 The above postcard has a Logan WV Nov. 23, 1937 postmark and was published by Guyan Drug Co. in Logan.  The bottom of the postcard shows part of the yard belonging to the residence of Judge Wilkinson. The Wilkinson home later became the Harris Funeral Home and is currently the Honaker Funeral Home.