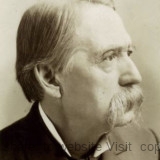 Thomas Dunn English (1819-1902) was the first mayor of Aracoma now Logan, West Virginia. English was a doctor, a lawyer and a very prolific writer. His poem "Ben Bolt" published in 1843 was very popular.  English left Logan County around 1854. He continued a political career in New Jersey where he became a Congressman. Dr. English is buried at the Fairmount Cemetery in Newark, New Jersey. For more information about Thomas Dunn English see "Wikipedia".
Logan Banner, Friday, September 25, 1903 Credit: Brandon Ray Kirk

Ben Bolt
Don't you remember sweet Alice, Ben Bolt,-
Sweet Alice whose hair was so brown,
Who wept with delight when you gave her a smile,
And trembled with fear at your frown?
In the old church-yard in the valley, Ben Bolt,
In a corner obscure and alone,
They have fitted a slab of the granite so gray,
And Alice lies under the stone.
Under the hickory tree, Ben Bolt,
Which stood at the foot of the hill,
Together we've lain in the noonday shade,
And listened to Appleton's mill.
The mill-wheel has fallen to pieces, Ben Bolt,
The rafters have tumbled in,
And a quiet which crawls round the walls as you gaze
Has followed the olden din.
Do you mind of the cabin of logs, Ben Bolt,
At the edge of the pathless wood,
And the button-ball tree with its motley limbs,
Which nigh by the doorstep stood?
The cabin to ruin has gone, Ben Bolt,
The tree you would seek for in vain;
And where once the lords of the forest waved
Are grass and golden grain.
And don't you remember the school, Ben Bolt,
With the master so cruel and grim,
And the shaded nook in the running brook
Where the children went to swim?
Grass grows on the master's grave, Ben Bolt,
The spring of the brook is dry,
And of all the boys who were schoolmates then
There are only you and I.
There is a change in the things I loved, Ben Bolt,
They have changed from the old to the new;
But I feel in the deeps of my spirit the truth,
There never was change in you.
Twelve months twenty have past, Ben Bolt,
Since first we were friends-yet I hail
Your presence as a blessing, your friendship a truth,
Ben Bolt of the salt-sea gale.
∼∼∼
"Ben Bolt" was turned into a popular ballad by Nelson Kneass in 1848.
httpv://youtu.be/SQ3LXsIL530
Although "Ben Bolt" was the most popular poem by English, he also wrote poems about Logan County and its people:

Rafting on the Guyandotte
Who at danger never laughed,
Let him ride upon a raft
Down Guyan, when from the drains
Pours the flood of many rains,
And a stream no plummet gauges
In a furious freshet rages.
With a strange and rapturous fear,
Rushing water he will hear;
Woods and cliff-sides darting by,
These shall terribly glad his eye.
He shall find his life-blood leaping
Faster with the current's sweeping;
Feel his brain with frenzy swell;
Hear his voice in sudden yell
Rising to a joyous scream
O'er the roar of the raging stream.
Never a horseman bold who strides
Mettled steed and headlong rides,
With a loose and flowing rein,
On a bare and boundless plain;
Never a soldier in a fight,
When the strife was at its height,
Charging through the slippery gore
'Mid bayonet-gleam and cannon-roar;
Never a sailor helm in hand,
Out of sight of dangerous land,
With the storm-winds driving clouds
And howling through the spars and shrouds—
Feels such wild delight as he
On the June rise riding free.
Thrice a hundred logs together
Float as lightly as a feather;
On the freshet's foaming flow,
Swift as arrows shoot, they go
Past the overhanging trees,
Jutting rocks—beware of these!
Over rapids, round the crooks,
Over eddies that fill the nooks,
Swirling, whirling, hard to steer,
Manned by those who know no fear.
Tough-armed raftsmen guide each oar,
Keeping off the mass from shore;
While between the toiling hands
Mid-raft there the pilot stands,
Watching the course of the rushing sluice
From the top of the dirt-floored, rough caboose.
Well it is, in the seething hiss
Of a boiling, foaming flood like this,
That the oars are stoutly boarded,
And each log so safely corded
That we might ride on the salt-sea tide,
Or over a cataract safely glide.
If the pins from hickory riven
Were not stout and firmly driven,
Were the cross-trees weak and limber,
Woe befall your raft of timber!
If the withes and staples start
And the logs asunder part,
Off each raftsman then would go
In the seething, turbid flow,
And the torrent quick would bear him
To a place where they could spare him.
Brawny though he be of limb,
Full of life and nerve and vim,
Like a merman though he swim,
Little hope would be for him.
Hither the logs would go and thither;
But the jolly raftsman—whither?
Now we pass the hills that throw
Glassy shadows far below;
Pass the leaping, trembling rills,
Ploughing channels in the hills;
Pass the cornfields green that glide
(We seem moveless on the tide)
In a belt of verdure wide,
Skirting us on either side.
Now a cabin meets us here,
Coming but to disappear.
Now a lean and russet deer
Perks his neck and pricks his ear;
Then, as we rise up before him,
Feels some danger looming o'er him,
Thinks the dark mass bodes him ill,
Turns and scurries up the hill.
Now some cattle, at the brink
Stooping of the flood to drink,
Lift their heads awhile to gaze
In a sleepy, dull amaze;
Then they, lest we leap among them,
Start as though a gadfly stung them.
Past us in a moment fly
Fields of maize and wheat and rye;
Dells and forest-mounds and meadows
Float away like fleeting shadows;
But the raftsmen see not these—
Sharp they look for sunken trees,
Stumps with surface rough and ragged,
Sandstone reefs with edges jagged,
Hidden rocks at the rapids' head,
New-made shoals in the river's bed;
Steering straight as they pass the comb
Of the sunken dam and its cradle of foam.
Now through narrow channel darting,
Now upon a wide reach starting,
Now they turn with shake and quiver
In a short bend of the river.
Tasking strength to turn the oar
That averts them from the shore.
Ah! they strike. No! missed it barely;
They have won their safety fairly.
Now they're in the strait chute's centre;
Now the rapids wild they enter.
Whoop! that last quick run has brought her
To the eddying, wide back-water.
There's the saw-mill!—now for landing;
Now to bring her up all standing!
Steady! brace yourselves! a jar
Thrills her, stranded on the bar.
Out with lines! make fast, and rest
On the broad Ohio's breast!
Where's the fiddle? Boys, be gay!
Eighty miles in half a day.
Never a pin nor cross-tie started,
Never a saw-log from us parted,
Never a better journey run
From the morn to set of sun.
Oh, what pleasure! how inviting!
Oh, what rapture! how exciting!
If among your friends there be
One who something rare would see,
One who dulness seeks to change
For a feeling new and strange,
To the loggers' camp-ground send him,
To a ride like this commend him—
Ride that pain and sorrow dulces,
Stirring brains and quickening pulses,
Making him a happier man
Who has coursed the fierce Guyan
When the June-rain freshet swells it,
And to yellow rage impels it.
The Logan Grazier
At dawn to where the herbage grows,
Up yonder hill the grazier goes.
Obedient to his every word,
Before him stalk the sullen herd,
Reluctant in the misty morn,
With stamping hoof and tossing horn,
With lengthened low and angry moan,
Go black and dappled, red and roan.
Through drain and hollow, up the hill
They pass, obedient to his will.
The slender ox and mighty bull,
The grazier thinks them beautiful.
You see less beauty in the herd
Than in yon orange-tinted bird;
You fix your better-pleasèd gaze
On yon broad sweep of emerald maize,
Yon maples on the hill-side high,
Or on yon field of waving rye:
More pleased with bird, or grain, or trees—
The grazier's sight is set on these.
He sees a netted purse of gold
In every bellowing three-year-old,
He sees new comforts round his home,
When buyers down from Tazewell roam;
He sees his cabin nigh the creek,
Its mud-daubed chimney changed to brick;
Its rude logs hid by clapboards sawed,
New shingles on its roof so broad,
New puncheons on the worn-out floor;
A picket fence before the door,
While cups of tin and plates of delf
And pewter spoons adorn the shelf.
Close where the rifle hangs on hooks,
On cupboard top are rows of books—
The Pilgrim of the dreaming John,
And Weems's Life of Marion;
The well-thumbed speeches of Calhoun;
The pictured life of Daniel Boone;
D'Aubignè's story, told so well,
How Luther fought and Cranmer fell;
To please his wife a yellow gown,
And beads to deck his daughters brown;
A jack-knife for his youngest son,
A rifle for his eldest one.
All these to him the cattle low
As up the hill they slowly go.
He fears no ravage of disease
'Mong brutes as strong and fat as these.
There's salt enough for them in store,
Brought from Kanawha's muddy shore;
The herbage on the hill is good;
The fern is thick within the wood;
There's tender grass in yonder drain,
And pea-vine on the summit plain.
High thought of gain that moment thrills
The herdsman of the Logan hills.
He envies not the hero bold;
He cares not who may office hold;
The statesman's toil, the stout man's limb,
The lover's hopes are nought to him.
His mind three things alone receives—
His wife, his children, and his beeves.
So these may flourish and grow fair,
All else to him is smoke and air.
O Logan grazier, stout and strong,
Despising fraud, defying wrong,
Brave as forefathers stern who bore
The stress of combat long and sore,
And fearless met in battle shock,
The wild and painted Shawanock;
True as the rifle in thy hand,
And generous as thy fertile land—
Full oft I've eaten at thy side
The maizen cakes and venison fried;
Oft in thy cabin as thy guest
Have stretched my wearied limbs to rest;
I love to note thy honest brow,
Warm friend and true companion thou;
And know no manlier form is seen
Than that within thy coat of jean.
Truth fills those eyes so keenly set
Beneath thy fox-skin cap; and yet
I would not that thy lot were mine;
I would not that my lot were thine.
Guard thou thy beeves and count thy gold;
Be glad when those great herds are sold.
For me, by midnight lamp I pore
My manuscript in silence o'er.
Each to the path that suits his feet;
Each toil, for time is moving fleet,
And soon, in woollen shroud arrayed,
Both in our narrow coffins laid,
It matters not if cattle fair,
Or making lays has been our care.
The poet's and the herdsman's form
Shall feed alike the greedy worm;
Shall pass the poet's glowing words,
Shall pass the herdsman's lowing herds,
And from man's memory fade away
Both herdsman's shout and poet's lay.
Guyandotte Musings
I.
Beneath this leafy maple
No sunbeam droppeth down;
Yet light surrounds my spirit,
Here in the shadows brown—
Delight and love hold torches
To light the shadows brown.
My dear wife sits beside me,
Her hand is in my own;
I see her downcast lashes,
I hear her voice's tone—
The distant bells of silver
Have not so sweet a tone.
Our Alice sings a ditty,
And wots not that we hear;
Sad Mary hears the fancies
That whisper in her ear—
She sits and hears the stories
They whisper in her ear.
Sage Annie watches Alice,
For fear of some mishap;
Little Florence is cooing and smiling
Upon her mother's lap—
Her closed hand in her baby mouth,
And she on her mother's lap.
Still darker grow the shadows
That drip from every limb;
They wrap me in their folding,
The outer sense grows dim;—
But the light within grows brighter,
Though all without be dim.
My thought is vague and dreamy,
And misty pictures pass;
The hues are tangled together
At every turn of the glass—
Blue, scarlet, green and golden,
Whenever I turn the glass.
II.
I raise my eyes—all passes;
And yonder "Backbone" stands,
With coat of grey and cap of green,
To watch the lower lands—
With coronet of oak trees
To guard the lower lands.
And all my pleasant musings
Are idle ones to-day;
My home, my wife, my children,
Are many miles away—
I linger here no longer—
To saddle and away.
III.
My feet are in the stirrups,
The reins my fingers press;
My mare, with black mane flowing,
Neighs loud at my caress—
With nostrils wide distended,
She neighs at my caress.
Faster, black mare of the mountains,
Rival the wind in thy speed;
They are watching at home for the master,
They listen the tramp of his steed—
A welcome waits the master,
A stable waits the steed.
The fond, ideal picture
That met my spirit's gaze,
Shall soon be true and real
Beside the hearth-fire blaze—
And ardent be the welcome
Beside the hearth-fire blaze.
And thou, my good companion,
Shalt share this joy of mine;
Annie shall bring thee white cake,
And Mary bring thee wine—
And thou shalt eat the wheat loaf,
And drink the draught of wine.
Fresh oats shall fill thy manger,
Sweet hay thy couch shall be;
And all because of my musings
Beneath the maple tree—
The maple on Guyandotte river,
Where thou didst wait for me.
∼∼∼
You may also like:
*The content on this page is for educational purposes and is used in accordance with the Fair Use Law (Per Title 17—United States Code—Section 107).