As we grow older, the memories of our past become more precious to us. The grocery stores, churches, schools, and the people we knew hold a special place in our heart and remembering these people, places, and things become particularly important.
This page was created to provide a place to preserve and share these special Logan County memories. If you would like to share a story about your Logan County memories, please email it to the admin at loganwv.us@gmail.com.  You are also welcome to share your memory via a comment.
---

Main Holden
By Barbara Mowery
November 15, 2014

The company store, now the Appalachian Dream Center, is the tall building at the left edge of the pic. The small building across the road was the Holden P.O. When I was pretty young it was moved on a flat RR car up the RR track, across to the present location. In 1968 Holden got a new brick P.O. and the wooden one was torn down. The brick P.O. is still in use. Before the P.O, moved to that location, there was a 2-story boarding House in that location, and it was torn down. In the mid 1930's The Holden Beauty Shop, The Holden 'Pioneer' Theater, and the Holden Drug store was built from this side of the old P.O. to the corner across from the 2-story house. Those buildings are still there. Dave's Pizza is where the beauty shop once was. The Theater & Drug store have been vacant for quite some time now. The last business in there were Dr Carbonel in the Drug Store, & Dr Feathers in the Theater building. I also remember th 2-story office building near the center of the pic. It was torn down while I was still pretty young. Most of those 2-story houses are still there. The ICCC Shops are on the right in the distance, beyond that is Lyman Terrace / Lymaterry Hill, & Price Bottom. To the right, out of the pic would be the Holden Community Church, now called 'The Lord's House'.
---
Holden Hospital
By Barbara Mowery
November 15, 2014

I remember the Holden Hospital very well. I was born, (at home), and raised at Holden, and my Grandparent's lived in the first house just past the Holden Hospital driveway. The Holden Hospital is in the background of most of our family pictures taken in my grandparent's yard, or in the road in front of their yard. Yje lighter part of the building here is an addition, but I don't remember the hospital before it was added on. Before it was added, the main entrance into the hospital was in the center of the older section of the hospital, after the addition was added, the main entrance was into a hallway where the two sections join together. there was a back entrance which faced toward my grandparent's house. Sometimes my cousin and I would go up to the hospital, always entering the back door, and we would buy a pop from the pop machine in the hallway. I especially remember the pop machine that had a long narrow glass door, and the g;ass pop bottles stuck out through a hole, and after you deposit your dime, you could pull the bottle out of the hole. I remember Dr. Chillag, Dr. Cooper, Dr. Patterson, Nurse Evans, Mr. Page, known as just 'Page', (who was the grandfather of our AGT winner, Landau Eugene Murphy Jr., X-ray dept Kenny Rollins, and some of the ladies at the sign-in desk were Dicie Frazier, & Vaughn Evans. I think a Mrs. Chafin may have worked in the kitchen. My cousin & I used to play on the hospital's grassy lawn, catching lightning bugs, & making necklaces & bracelets out of Clover. which was later paved, and made into a parking lot, just like that 'oldie's song about 'They Paved Paradise, and put in a parking lot. Back then not many people had cars, it wasn't necessary because we had full sized Trailway buses that ran every 15 minutes, everywhere in Logan Co., There was a HUGE bus terminal, with many business inside, like a mall, where Wendy's is now, the radio station was upstairs, and there was a pool room in the basement, and there were several Taxi business just in downtown Logan, as well as Holden also had one. Only driver I remember was Ed Turner, I do believe he is the father of Logan Counties John Turner. I lived at 5&6 Holden & I could call the Holden Taxi to come get me and take me to Main Holden to the movies, or to my Grandparent's house . . . 25 cents !! Yes, it was a different time, and world. It's sad to think that after my generation is gone, no one will remember the wonderful, clean, had everything, Holden that I grew up with. If I hadn't been there, I wouldn't believe what all Holden had to offer. I do give credit to ICCC for this. Holden was their main, maybe even world headquarters, so many of their officials were in Holden, so they wanted a good life, & community for their families, so we all benefited from that.
---
My Childhood Memory of Greenville
By Roger Egnor
February 1, 2014
The house has been torn down, those that lived in the house have at one time or another, have died, except for two. Prior to their deaths, and during the summer, her daughters and other family members would either come in from out of State, or come by to join in with their instruments. I have seen and sit in, listening to of course, to some of the best Gospel and Bluegrass Pickers West Virginia had to offer. It would start off with the family members playing, word would spread throughout Greenville and other communities as well, that Bluegrass and Gospel Music was being played, and soon there would be a house full of Pickers. They would begin on Friday Night and play the entire weekend. At her wake, Bluegrass and Gospel music was played most all night. Some of those Pickers (but just a few I suppose), are still alive today, playing and singing some of those old traditional Bluegrass and Gospel Songs. How I loved those times, and I often wonder back trying to reclaim some of my precious memories. Buddy Grimmett, if you read this, I'm sure you can recall those times as well as myself. Thank You Buddy for helping in the making of my precious memory. I'm sure you remember most if not all the Pickers that participated, and to whom I'm writing about as well.
---

A Henlawson Ghost Story
October 27, 2013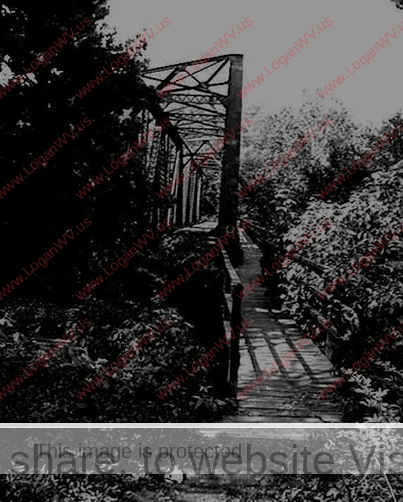 In the summer of 1957, a group of us were playing in the backyard after dark. After a while we stopped playing and settled down on the back steps to talk. After a few minutes, one of us pointed out a couple walking across the railroad bridge about 500 feet away. We thought nothing about it and continued to talk. A few minutes later the dogs started barking and we saw this same formally-dressed couple walking down the back alley about 50 feet away. After the couple walked down a path to the river bank and out of sight, we looked at each other and were immediately startled. Although we were sitting only a few feet from one another, we could barely see each other. But yet we saw the couple walking in the darkness very clearly. Scared out of our wits, we ran as quickly as we could inside. We no longer played outside after dark that year.
---
This photo shows the former William "Will" and Elsie Gore Dingess home in Verdunville, WV. The location is on County Highway 5, west out of Logan (also called Mud Fork Road). I was born in this house in 1941. The home is no longer there, and when I last saw the property four years ago, a trailer home was occupying that space. The store and adjacent gas station next to the home were operated by Dingess and Gore family members. Those structures are also gone, but there is a piece of equipment from the gas station that is still in the ground. Hill Road, next to this property, leads up to a cemetery where, among others, my granddad Will Dingess is buried. He died in #20 coal mine accident in 1933. While my dad, Franklin Shuff, was in the Navy, my mother, Emily Dingess Shuff, and I lived with Grandma Dingess. She allowed coal miners to live there as boarders to help make ends meet. She and mother got up early every morning and killed chickens that were kept in the yard. I remember watching them ring the chickens' necks, dip them in a big pot of boiling water, pluck their feathers off and cup them up for cooking. Then, the kitchen was a very busy place with cooking chicken, biscuits and milk gravy. Some of that was eaten for breakfast with eggs, and some packed up in the miners' lunch pails. The only other things I remember about the miners were how dirty they were when they came home – the whites of their eyes stood out and seemed scary to me. If I remember correctly, they took baths outside before coming in. And I remember how, after dinner, they went up to their rooms and turned on a radio. I can hear the soulful country music now.
---
By Pam Brennan:
January 9, 2011
My mom says that in the 50's people would pack a picnic lunch and spend the day at a local cemetery. There would be other families there and the kids would all play while the adults visited and tended to the graves. It was a way of staying close to their lost loved ones as well as socializing with the neighbors.
She said the lunches were wonderful. Her mom would pack roast beef sandwiches made with huge slabs of roast beef on homemade bread and they would drink milk or water from jars that were kept cold in the creek.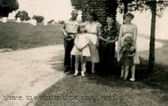 Back L-R: Uncle Toby, Anna (Saunders) Farley, Lloyd Farley, Edna Ruth (Farley) Mitchem
In front: Betty Jo (Farley) Brennan and Mary Ann Farley
---
By Frank Thompson:
July 29, 2010
I remember my Dad using some expressions when I was growing up that were only particular to WV or some specifically to only Logan County. One was "I will do it directly." It took me some time to realize that this did not mean immediately but "later". Also when you'd asked him where he was going his answer would sometimes be "Naugatuck". This was like saying "none of your business". Another expression I recall hearing growing up in Logan was "Peach Creek below Logan". That meant a lady's slip was showing.
---
By Frank Thompson:
June 28, 2010
In 1955 when my brother was a baby, my mother used to sing him a little song that I thought she made up.  I later learned that it was part of an old Appalachian folk song.
The lyrics from Mom's song:
Ralph's got a girl who lives in a hollow
Hum dum de diddle o'day
Oh, she won't come and Ralph won't follow
Hum dum de diddle o'day
Song lyrics from the book "Christy" by Catherine Marshall:
"I've got a gal in the Buffalo Hollow
Hey-tank-toddle all the day,
Oh, she won't come and I won't follow,
And a hey-tank-toddle all the day."
Christy by Catherine Marshall (1914-1983) published in 1967 is about a nineteen-year-old girl that leaves home in 1912 to teach school in one-room school in Appalachia.  CBS created a TV series based on the book.
---
By Frank Adams:
April 17, 2010
Logan had several "big rocks" on top of the surrounding mountains. Ward Rock was up where WLOG and WVOW had placed their towers. There were large rock formations above Deskins Additions and I remember at one time the paper rumored that there were prehistoric animals up there. It turned out to be goats. The large rock formation above Midleburg Addition was known as Devil's Hole and you could get on top but it was difficult. The rock was noted for a large hole in the middle. I think the proposed new road to Man has cut into this hillside and it certainly is not the same. We spent a good bit of time on the hillside looking for grapevines to cut and then swing on. We would test them with the weight of two or three boys to insure that they were strong enough. All went well until the vine died about the third day and then it would break while you were over the great abyss. In the 50′s the Guyandotte was polluted with the washings from coal cleaning plants. It was jet black and in times of drought, almost ran like syrup. Untreated sewerage also was dumped into the river and game fish were non existent. The annual floods did serve a purpose of giving the river a good flush.
---
By Herbert (Porky) Blankenship:
April 13, 2010
When I was student at the Coal Branch grade school in 1949 or 1950, the white kids were invited to the black school for a May Day celebration. They had a May Pole with red and white streamers or ribbons attached to the top of the pole. All the kids danced around the pole, each holding a streamer, half were going clockwise and half going counter clockwise. When the pole was finished it had been woven top to bottom with red and white. Lunch of hot dogs and Kool Aid was served inside the school. I can't remember if there were two or four rooms but it seems to me like there were two large rooms. I was most impressed with the hot lunch. I don't know if they always served hot lunches or this was just a special occasion.
---
You may also enjoy: