My Family Memories
My Dad Joe was in business for himself. He hauled produce and eggs from Ohio and Kentucky. We never had a lack of food in our house because if my Dad couldn't sell everything, he would give it away to those who were in need.
 We lived in the red brick two-story duplex across the street from the Pilgrim Holiness Church. As a child I recall the church bell and a lot of shouting during the church service. It was explained to me that the people were enjoying themselves. I enjoyed hearing the beautiful singing and music coming from the church. My brother, Joe Jr., attended Sunday school classes at the church. As a family we went to the First Presbyterian Church in downtown Logan, where Norman K. Morgan was the Pastor.
 Due to my Dad's long working hours, he used to like to sleep later on Sunday mornings. About 5 am our neighbor, Roscoe Long, would come through the neighborhood banging on his buckets.  Roscoe had some pigs on the hill, a short distance from the Handy Andy Grocery store and he would be returning from feeding his pigs. He would yell out "everybody, it's time to get up and go to Church." My Dad tried to explain his need to sleep to Roscoe but that fell on deaf ears. Roscoe felt that it was his job to get people up to go to church.
 Christmas time was a wonderful time of the year for us. We would help our Mom decorate the tree. Mom would bake Hungarian cookies and bread. They were such wonderful treats. She would also set up a small table and put some out for Santa Claus near the tree. This was a big deal for me. I used to listen for the touching down of the reindeer's hooves on the roof as I drifted off to sleep. I worried a lot in those days. How would Santa get down our chimney since we had a gas stove attached to the fireplace? My Dad and Mom would tell me that Santa had magic dust which allows him to get through the door. I recall one time waking up early in the morning and hearing voices and thinking it was Santa. I quietly went halfway down the stairs and peeked. What a shock? Dad and Mom were drinking coffee and eating the goodies that were left out for Santa. There were presents by the tree, so I didn't say anything and I went back to bed.
 About 1951, my Dad took my brother Joe and me to the Logan Middleburg Theater to see the cowboy, Lash La Rue. He was dressed in black and did some mighty fine whip tricks. My brother Joe (seven years older than me) went to the Guyan Theater to see "Gone with the Wind," "Lassie" movies and other events like the LHS band concerts. About once a year I was permitted to go to the Logan Mercantile Store by myself to buy clothes and shoes. Helen Veres would always wait on me.
About 1958, a young man came to our door and asked for my Brother, Joe. I told him he was away at Concord College. He said that his name was Clarence Stacy and that he was a singer.  He also told me that he used to play basketball here at our house as well as at Cherry Tree Grade School.   He said:  "I have recorded my first record called" Lonely Guy" and I want to leave one for Joe." 
 One of the fun things we used to do when we went with our Dad was count cars and trucks. Sometimes it was choice of color, sometimes Chevys, sometimes Fords. My Dad enjoyed helping me when he could. One day when he came home, he saw my jar of bugs for a science project. I told him that I had to dry them, put pins in them and ID them. A few days later he brought me a few jars full of bugs. He had asked the men working for him to pick up bugs as they went through the various neighborhoods selling produce and eggs. I got an A+ for my project.
 Dad used to enjoy taking my cousin Bob and me with him to make  deliveries.  He had bought us long water guns. After he finished his deliveries, he allowed us to ride in the enclosed bed of his truck. The bed had small door vents that could be opened. We thought it would be cool to shoot people with our water guns as we rode in the truck. Some of them would look up toward the sky thinking that it was raining.  One time Dad was driving through a road construction site and we were having a good time shooting the guys with water. All of a sudden the truck stopped and a big burly guy was talking to my Dad. Then he came to the back of the truck and pounded on the door. As my Dad drove away and we could see him laughing. He was teaching us a lesson.
 I have fond memories of my Aunt Anna. Every summer she took my cousin Bob and me blackberry picking on the hill near the tram road. There was nothing more scrumptious than blackberries with sugar on them after setting overnight.
 Some days we would go on the tram road to play hide and seek till lunch time. On one of these outings my aunt was hiding from us behind a large dirt mound. She lost her footing and slid into the remnants of the old Monitor tipple. This injury would cause her discomfort for the rest of her life. My cousin and I walked around searching for our Aunt but couldn't find her. We thought that she had gone home without us.   We then heard a faint voice calling our names. We went down the hill and found her lying inside the wood beams. I stayed with her while my cousin went for help. A group of men came up with a stretcher to carry her to the ambulance. It was a long walk to a dirt road near some houses on the hill at Monitor.
 In 1963, the Guyandotte River hit a record 35′ and we had the worst flood ever. Almost every spring the water would back up From Mt. Gay Junction but would usually get no further than the RC plant located in the lower end of Cherry Tree. This year, due to the construction of the boulevard, the flooding was much worst. Fortunately, I was able to get our car and truck to the City of Logan and leave them there. I walked back home on the railroad. As I arrived home, the water was waist deep in our yard. My Mom had had gallbladder surgery and couldn't leave the house. The water got up nearly to the porch roof of our two-story house and remained high for three days. I still recall the power boat that came to rescue us. I walked onto the roof and explained our situation.
Mt. Gay School Days
After three years of walking and being driven to Cherry Tree School, it was a pleasure to ride the school bus. The bus stop was on the side of Nagy's store. It was a great that Aunt, Elsie Szakal, was the bus driver. She had a wonderful driving skill. She picked up the kids in White's Addition before us.
My first impression of Mt. Gay School was a fort sitting on top of a hill, a large brick two story building, surrounded by a fence and steps to climb.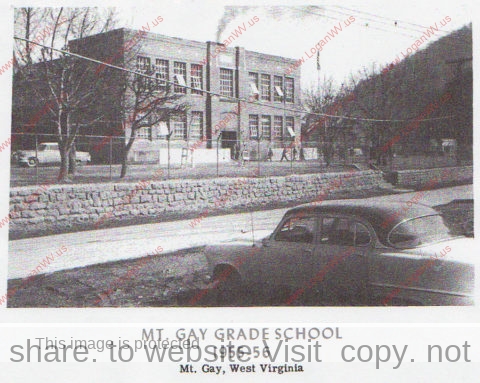 I recall a basketball pole and hoop in front of the school as well as swings and a merry-go-round beside the school. There were lots of windows and a very nice cafeteria inside.
The boys had a lot of fun playing a modified game of tag at the side of the school. A straight line was drawn on the ground and the boys would line up. Behind the line two or three players would yell out " toes on the line" or " toes off the line!" If your toes were on the line, you were safe but if you were off the line then you had to be part of the team. If the call was "toes off the line" you could run and those on the team had to hop on one foot and try to tag you.
The hopping leaders couldn't support themselves on the fence or trees. If you got tired you could hop back to the safe area behind the line. If your foot touched the ground the other players were allowed to hit you on the shoulder. If they hit you any other place on the body or tripped you to make you lose your balance, they had to become part of the team.
It took a great deal of skill to hop on one foot and many of the boys didn't want to be the hoppers because they didn't like to get hit. For the most part it was a clean event. This game could go on for days until everyone was caught.
In September 1956, Logan County Schools were integrated. Two black students riding on our bus were Katie Mae and Robert Lee Johnson.  They lived in the lower end of Cherry Tree. Katie and Robert were both tall,  thin kids who were smart, polite and quiet.  Their parents were Ruth and Robert Johnson from Holden but they were living with relatives in Cherry Tree at the time.
Our bus was rocked and rolled from side to side by an angry bunch of white people. They had signs and did lots of yelling. They didn't want the black kids attending school with their kids. I recall being in Ms. Betty Varney's class at the time. She made several of the kids who brought signs into the room throw them out the window from our second floor classroom.
See the Mt. Gay School Gallery
My Best Friend, My Pal, Bob Szakal
My very best friend in growing up in Cherry Tree was cousin Bob Szakal.  He and his family arrived about 1950 from Cleveland, Ohio. His Mom, Elsie became a school bus driver. Bob recalls our walking to school and his aggravating some of Mrs. Black's roosters causing them to peck at my heels.
As I got older, my cousin Bob and I would ride the county bus that passed through Cherry Tree to Logan. For a dime we could experience a bit of freedom. It was a trick to pull the cord at the right time to get off where we wanted. Also, for a dime Bob and I could go to the Logan Theater.  Because I was a lot taller than him, I was once asked my age and I said 13. Bob once said that he was 12 (he is three months older than me), so I had to pay a quarter and he only had to pay a dime.
Each year during Halloween we anticipated having buckets of water thrown from a two story house in lower Cherry Tree. Who could ever forget Joe Chirico standing on the steps of Chirico Grocery and hosing any kid that tried to get a treat? We would always dare each other to try to get inside his store without getting wet. We never succeeded.
Every day the loaded coal cars would rumble by our house. Some days my cousin Bob and I would be shooting basketball hoops as the train rolled by. We would skip rocks off the cars Trying to knock off the coal. Sometimes we would hit the caboose and the train would stop. We would run and hide.
There was a vacant lot near our house with a huge willow tree near the railroad tracks. What great fun to swing from it into the lot! We tried to keep the weeds down by playing football there but Mr. Adkins, the owner, would catch us.  Our parents would give us heck about it being a no play zone.
Walking the railroad was a real part of growing up in Cherry Tree. My cousin Bob and I liked to do rail racing and he usually won as he could walk really fast without falling off the rail. The most challenging part of these walks was going across the railroad bridge. It was scary looking down at the water and I froze in my tracks a few times. The other guys would help me across.
Cousin Bob used to try and crawl under the railroad cars to get to the other side when we would come down from hiking in the hills after playing on the tram road. His brother, Frank, once caught him. As a result Bob got spanked and he never did it again. He had a paper route and also sold Amway products. At Night he used to sneak out of the house and go down to lower Cherry Tree and use his money to play the pinball machine. At Mt. Gay School Bob was on the Student Council. He wanted to be on the Patrol team but wasn't selected.  For a while Bob went to the Pilgrim Holiness Church in Cherry Tree. After leaving Logan, he would continue to attend a Pilgrim Holiness Church in Indiana.
Grade School Friends
When I was in the third grade at Cherry Tree School, Mike Ratz and I were given the task of hanging the swing sets up every day as well as taking them down. We were like Laurel and Hardy.  I was tall and thin and he was short and stout. He would lift them up to me and I would attach them. It was always great fun to see who could swing the  highest.  A few times I recall showing off to a girl and jumping off the swing landing on my feet.  As a result I cut my hand. I must have scored some points that day with her. To this day I can't remember her name but she invited me to her birthday party in White's Addition. My Mom bought her a purse and wrapped it nicely. Dad drove me to her house and then went to do errands.  I remember the house being white with a stone walkway. It was a few houses to the right after you crossed the bridge. I went to the door and knocked but it appeared no one was home so I left the present at the door and walked home. Arriving home my Mom said the girl's Mom had called to ask about me. She said that they were out in the back yard and didn't hear me. Not having a ride back, I stayed home.
I attended a few birthday parties at Bertie Butcher's house in the back alley. I recall it being a two story wooden frame house. At one of these parties, Bertie stepped on a nail while jumping up and down and had to be taken to the hospital. The Nagy boys always had parties with good eats and drinks. After drinking a Nehi Orange I was sick for days.
David and Shawny Nagy had put a basketball hoop on a lot that their Dad owned in the back alley. We were having problems with the White's Addition boys. One night a group of them stole the hoop and put it on a pole in their area. We decided we would get it back. Another night the Nagy brothers, cousin Bob, Mike Ratz and I went to retrieve it. David cut down the pole with a saw and was trying to remove the hoop  when a group of the White's Addition boys saw us and began throwing rocks at us. We returned the rock throwing but were outnumbered and had to leave the bent hoop. We headed to the railroad tracks and walked home. My cousin Bob reminds me that things got better and there were many wonderful football games with the White's Addition boys.
During the Cuban missile crisis, I recall Jerry Johnson saying that he wanted to join the Air Force so that he could drop bombs on Cuba. His cousin, Joe Vargo, used to trade funny books with all of the kids in the area.
We looked forward to school being out due to frozen icy roads. A group of us would get together and have snowball battles. The downside would be extra homework and exams upon our return  to school. We so anticipated snowy weekends when we could fly off the hills on our sleds. Those West Virginia Mountains were so beautiful in the summer but more fun in the winter snow.