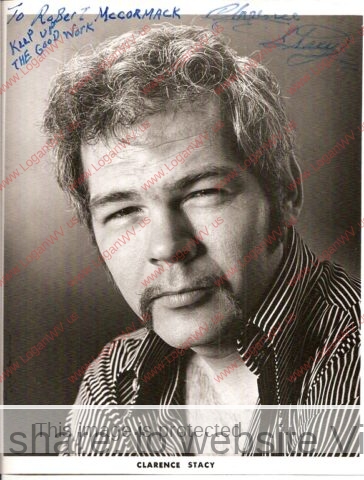 Clarence Stacy – Cherry Tree resident makes good as Singer, Actor, Song Writer, Producer, Author and Playwright.
Clarence Stacy and his mother, Alice, lived the second house above the Cherry Tree school beside the home of Milford Long. He has happy memories of his childhood in Cherry Tree and chumming around with Joe Piros, Jr and Jack Tiller.
Clarence's own record label was Coal Mine Music & Audiosonic.
Recordings by Clarence with YouTube links:
Jack the Ripper written by Clarence, his brother Charles Stacy and Joe Simmons). This song led to the popularity of Screaming Lord Sutch and became his signature song. Other groups that recorded Jack the Ripper were White Strips, The Horrors, The Black Lips, Gemesomes. The One Way Street, and The Fuzzytones.
Clarence produced "Where Has Time Gone" in 1983. It was sung at the high school graduation of his daughter, Theresa Bell Stacy, for her ring day and was recorded on the Coal Mine label, Clarence worked in the recording studio of Audio Sonic & Variety Recording Studio in NYC for thirty years.
Clarence has worked with such movie stars as Dustin Hoffman, Telly (Kojac) Savales, Woody Allen, Robert Culp, and Richard Pryor. A musical play, "Kids Around Town" was written by Clarence and performed three different times Off Broadway He is currently writing a book about his life growing up in WV, his music and his life in NYC.Stacy resides in NYC with his wife, Nora. He has two children, Theresa Belle Stacy and Calvin Apolius Stacy, and one grandchild, Cameron Stacy Bubb.