By Joanna Newman
"The Family is the Seed From Which All Growth Begins"
Beth Mende Conny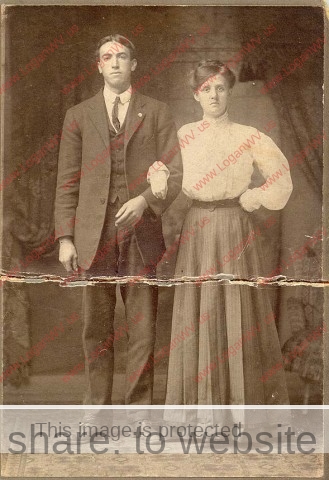 My Maternal Grandparents
Dow & Malinda May Thompson
Logan County, West Virginia
All of my Genealogy Articles and Posts
Important Legal Stuff…
NOTE: Most information found on these pages are to be used as STARTING POINTS only. When there is "hard" documentation I try to include the particulars so others can obtain the documentation for themselves if they wish.
Any information you find on this site is copyright protected.
While we are on this subject. There is information here I obtained before I knew how important it was to record the source. If you see any information on these pages you feel you are the source of, PLEASE contact me!
As always, NONE of this information can be used for profit. I support free exchange of genealogy information and cooperation between genealogy researchers.
The surnames listed here in CAPS are the lines I am most interested in.
ALLEN | DILLON | FARLEY | Griffith | GUNNOE| Lewis | MARCUM | MAY
| MASSEY/MASSIE |Osborn | PATTON | SOWARDS | THOMPSON |WARD
Joanna Newman
jobeth44@embargmail.com
---
Belle Allen Thompson was born about 1865 and died ? in Logan County, West Virginia. She was the second wife of Peter "Pete" Thompson, the son of James "Jack" & Juda White Thompson. She was the daughter of Christina Gunnoe Allen.
J. Brett Allen was listed in the 1900 Logan County annotated Census as being the father of Mary Elizabeth and Scott Allen, her older siblings. No paternal entry was found by her name. But as far as we know she shared the same father as Mary and Scott.
Belle was the younger sister of Mary Elizabeth Allen Thompson, who was the wife of her husband, Pete's brother, James "Jimmy" Thompson. Thus, the two Allen sisters married the two Thompson brothers.
SOURCE: Photo and identification came from Wavolene Bloss, daughter of Nettie Thompson who was the daughter of James and Mary Elizabeth Allen Thompson.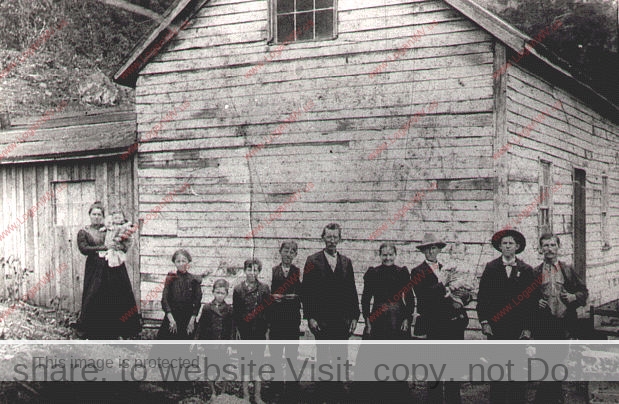 Family of John & Rulana Massie May ca. 1900
Roach, West Virginia
Near Salt Rock, West Virginia
Off RT 10 in Cabell County
Left to right: Martha May Lewis (dau) & baby, Malinda May (later Thompson, age 8), Bernie May (grandson – son of Beckie May), Eustace May (son), Willard May (son), John Wesley May (husband), Rulana Massie May, (her mother was a Dillon) Oscar May (son)& baby, Otis May (son), Ben Lewis (husband of dau. Martha)
Rulana was a midwife and delivered many babies in her time.
*note* Martha May Lewis was standing so far to the rear and to the side because she was pregnant.  Oh, how times have changed!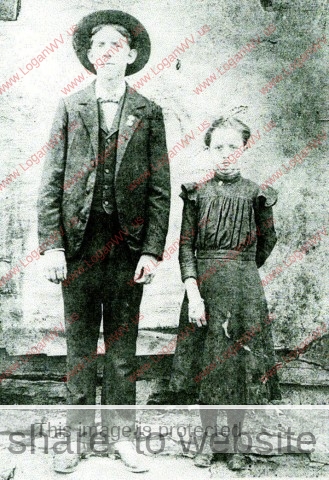 Oscar May & sister Malinda Elizabeth May ~ Photo ca. 1898-99
Ages abt. 22/23 & 8/9 years
(Note Malinda's (Lindy) left hand in behind her…
She had deformed index and middle fingers that she always took pains to hide. Eventually they were removed as an adult to leave the pinky and ring fingers and thumb…As children all of her grandchildren were fascinated to touch and stroke the soft skin where her fingers should have been…
and she always let us…)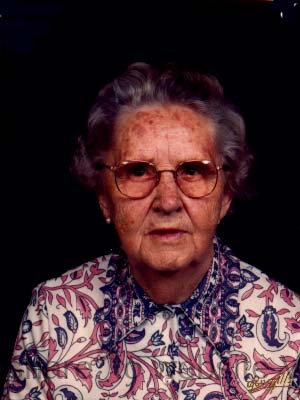 Malinda Elizabeth May Thompson
ca. mid 1970s
August 5, 1890 – September 8, 1978
This is how I remember grandmom. She was soft and gentle and a true lady.
Malinda May (Thompson) was an inspiration to many, and a much loved lady who became the mother/grandmother of a large family as well as helping to finish raising the younger siblings of her husband, beginning when she was but 17 years of age immediately after their marriage.
She has had a granddaughter and several great-granddaughters named after her.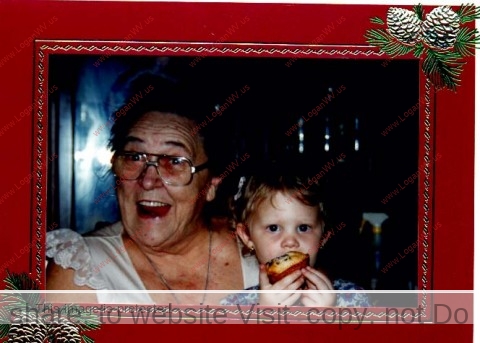 Elizabeth Johanna Thompson Murray
b.July 29,1922 ~ d. December 13, 1995
Holden, West Virginia
~ Jacksonville, Florida with great-granddaughter Malinda "Lindy" Daley
This is my favorite photo of Mom.
She died of a massive stroke less than one week later.
This was her last photo and the one that shows her just as she was.
She truly enjoyed her grandchildren and great-grandchildren.
---
More Family Photos
Click on any of the thumbnails to see the full-size images and descriptions.