© Copyrighted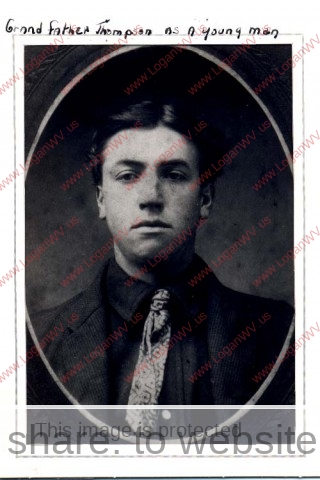 Lorenzo Dow Thompson was born September 10, 1885, in Logan County, West Virginia. He was the second of ten children of James "Jimmy" Thompson & Mary Elizabeth Allen.
Dow, as he was known, was a serious minded, and responsible young man. This was demonstrated when his father Jimmy Thompson was killed when Dow was only 12 years old. After his father's death, it was the lot of the oldest children to help their mother, who's arm was seriously injured in the incident.
When their mother died in 1902, he and his oldest siblings were left with the responsibility of caring for the younger children. In 1902 Dow was 17 years old. Shortly after their mother's death, their house burned to the ground. This story can be found in Waveoline's Letter. The younger children were "farmed out" to various people. This bothered Dow.
Not long after this, he met Malinda May, who was visiting her sister at Frogtown. He somehow got her dress dirty and she returned the "favor" by baking him a cake and inviting him over. It didn't take him long to realize that this young woman was a precious find. They married and he lost no time in rounding up his siblings. Malinda found herself an instant mother of children nearly as old as she was. She was 16 1/2 years old.
Dow worked on farms at first right after his father died (having quit school at the 4th or 5th grade level), then going on to Island Creek Coal Company as an electrician after he took correspondence schooling that eventually led to his electrifying Island Creek's #22, Mudfork, and other mines. He later became Chief Electrician of Island Creek Coal Mines.
Dow and Malinda had a total of ten children. Seven surviving to adulthood. Those that died were Cletus, who died at only several months, Mary, who died at 12 years of complications from a fall, and Jimmy, just shy of his 10th birthday in 1934. Jimmy died from a fall in the cold spring creek water after having been sick earlier and not fully strengthened. Jimmy was the apple of Dow's eye. His death hit him especially hard. Family stories say he never fully got over it. The seven surviving children will be included on these pages. They were Eunice, Lillian "Judy", Lorenzo Dow Jr., Lawrence Edwin, Lon Cecil, Elizabeth "libby", & Geneva Phillis "Boots".
Dow was said to be a high principled man. Demanding these same values from his family. His boys wore white shirts every day to school and his children never came to the table without being fully dressed in the morning. My mother says she never heard them say an angry word in front of the children. They would always leave the room and come back with the problem solved.
He was an honest man, who when the mine wars were flaring up, told his men to vote their own heart. He was management, but knew what these men were dealing with. He didn't take a "management stand" to attempt to pressure his men. He had worked inside the mines himself as a young man. He lost a brother in 1922 in a mine accident. He even went so far as to quietly buy script from his men so that they would be able to go into Logan and buy with cash. Something that was not allowed by the Company. These men were paid with script only, and were expected to use only the Island Creek Company stores. Those were hard times for the miners.
Dow on the other hand was rising within the company ranks,and moving from Batchelder to Beebe. A little later as he continued to advance, he was given a house "up on the hill" where the big bosses and Doctors lived. Dow refused the house, saying he wanted his children to continue to live where they were.
His family was much better off than most, but it was clear he wanted his family to understand how others had to make it through life. That there were good people throughout the ranks of the mining companies employees.
There came a time in the late 1930s that Dow became ill. He fought the illness for several years. My mother told me upon his death, that she had gone to Dr Lawson and ask questions of his death. She was told he had had cancer for sometime. He, with typical Thompson behavior, would not tell anyone of his illness. He was losing weight and was also beginning to suffer from severe depression. Things were changing at the Company. New methods were being used. His warnings that some of the new methods wouldn't work, fell on deaf ears. He was eventually found to be right, but the "watch" was changing. All these took their toll and he took his own life.
Dow Thompson was a good man. He was well liked and respected by all who knew him. His death made front page news in Logan. In all my years of hearing about this man, I never heard a bad word about him. Unless you want to call his being serious and upstanding to a fault. On the other hand, he had a great sense of humor and was continually playing jokes on others.
One such story was where one of his night bosses called him late one night complaining that the nightwatchman was sleeping as usual behind some large machinery. Dow told Malinda to don her white outfit and come with him. He placed Malinda quietly but squarely in front of the sleeping man. Then he went around to the other side of the machinery and BANG! He hit it so loudly that the man awoke with a start, seeing my grandmother standing in the dark right in front of him all in white. All this man could do was scream, "De Angel! She comes for me!!!" We understand that he never had another sleeping problem.