This was originally published in 2002 on Martha Sparks' My West Virginia Mountain website and is reprinted here with her permission and our special thanks.  Note:  The fancy header image is from Martha's page also.
MORRISON'S
DRIVE-INN
It was our first date, I was only fourteen but my parents had agreed to let me go on my first "car" date. As I was walking across the parking lot to the bathroom, the curb girl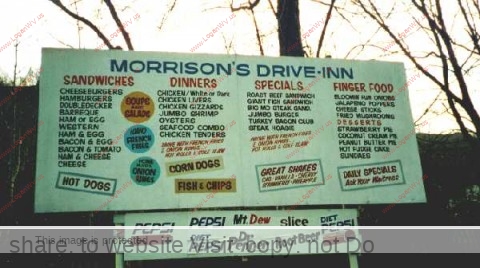 came to take our order. The big dummy yelled "Hey, you! You want anything?" He had forgotten my name! Honey, you can bet he's lived hard for the last 31 years over that one! Seriously though, Morrison's Drive-Inn has probably supplied untold memories for people who grew up in Logan County. It is a long established business that has survived for over 50 years. They food is always delicious and the employees are always friendly. What's their secret? Besides the ones mentioned above, I think it could be Sally! She has been a fixture with Morrison's for over 47 years now.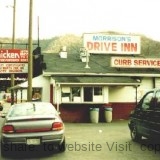 The year was 1948, John Morrison, who was managing the Guyan Bar B-Q for his brother Dallas, wanted a business of his own.  It was the post war era, the country was still recuperating from a long hard battle and supplies were limited. At that time veterans of World War II were given priority of supplies and John couldn't obtain building materials without the help of a veteran.  John Morrison had a friend, Leonard Riffeitt,  who had recently returned from the Navy, together they built a Logan County landmark that has survived for over 50 years.  John is now deceased and the Reffeitts spend most of their time in Florida.  Reffeitts daughter and son-in-law, Sherry and Bob Mayhorn now run the place.  Morrisons has a solid reputation for good food, especially their crispy, homemade onion rings.  Their hot
dogs are renowned for a secret sauce originated by co-owner L.L. Reffeitt.  Sally recalled how a man would drive from Kentucky once a month to take home about 160 hot dogs which he gave to friends and family, and another lady who came from Alabama once a year for 30 to 40 containers of the delicious sauce to stock in her freezer. Today Morrison's has three locations to serve you.  The original business, situated on Rt. 10 south of Logan at Stollings, just may hold the title for the oldest curb service in the state.  The other two locations are Morrison's Walk-Inn at 208 Stratton Street in downtown Logan and Janet's Park 'n' Eat at Mt. Gay.  How many cheeseburgers has Morrison's served up?  Who knows, but how many memories has Morrison's served?  Most likely, billions!
YES!  My lunch was as delicious as it looked!  *grin*  Hungry, now?
---
Morrison's Drive Inn serving food and nostalgia