This was originally published in 2002 on Martha Sparks' My West Virginia Mountain website and is reprinted here with her permission and our special thanks. Note: The fancy header image is also from Martha's old website.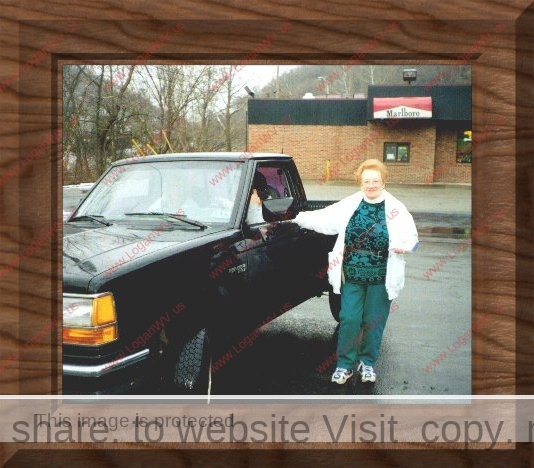 Sally Wall
Logan's Oldest and Best Curb Girl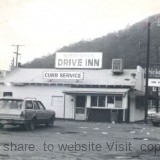 She's the oldest curb girl at Morrison's Drive-Inn! She sort of grew up with the local teenagers around the Logan area back in the '50's, 60's and 70's and she's still around for the start of the millennium.  Yes, Sally has been a curb girl since July of 1955, and still balances her trays and takes orders on the curb despite being a great grandmother.
Sally, a native of Henlawson and the mother of two daughters, began her service to Morrison's because she wanted to make money of her own.  "My husband Carl operated a dry cleaners and I worked part-time for him, but I wanted to make money of my own," said Sally, "Dallas Morrison, a friend of ours, said his brother John, who owned Morrison's Drive-Inn, maybe could use me.  Dallas called John and he advised me to come down by 6:00 p.m. the following evening."
Sally didn't know what her duties were to be, but by 2:30 a.m. the next morning, she had been well initiated.  She fell into bed exhausted.  "We never left a car not being waited on, no matter what time it was.  That was when Logan was experiencing a coal boom and business was hectic.  I worked inside for a week, mostly making sandwiches.  Then one rainy night, one of the regular curb girls got wet and a little fussy.  Running out of patience, John barked at her, 'If you don't like it, go home,' and she went home."
"He turned to me and said, 'Little Red, get out there.'  I had pretty red hair then, but now it comes from a bottle," Sally confides, "I replied that I didn't think I could do it.  But Carmen Fanning, who got the orders ready, encouraged me to go and so I did.  I've been here ever since."
Sally earned a straight salary of $15 dollars per week, not including tips which she wasn't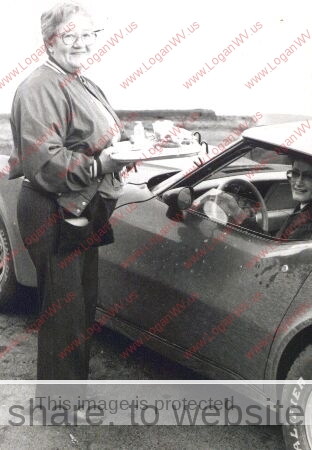 required to report.  Her largest paycheck one night in the early days was $30. "Either my husband or a local girl came in to take care of my daughters when I worked," says Sally.  "Brenda was about 10 and Karla about four when I first started."
"Know what a hot dog cost back when I first started?" asks Sally, "Twenty cents a piece.  And soft drinks were 15¢.  There were no fountain drinks then and it was hard to carry them on trays–the bottles were so easy to tip over.  We served Pepsi, Coke and Seven-Up.  If someone took a bottle, the curb girl had to pay the nickel deposit."
"On Fridays we offered a cheeseburger and french fries for 49¢, drink not included.  Kids came from Logan High School for lunch, usually piling into one car.  Most of them didn't have the luxury of owning their own vehicle.  Some of them didn't always have enough money to pay and would lack maybe 15 or 20 cents.  I would make up the difference.  But when they showed up the next weekend, the kids always repaid me.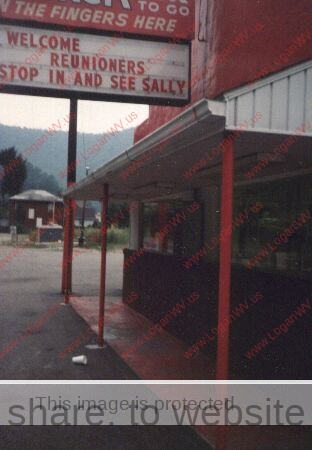 They've grown and gone now, but many of them still come back and see me when they have their class reunions."  Sally is an outgoing, upbeat person who radiates warmth and personality.  The students she formerly waited on haven't forgotten her and now return with their grandchildren, mainly to check on Sally and talk about the good old days.  They still find Morrison's much the same as it was decades ago, except for the fresh coat of paint and the addition of picnic tables in the rear of the lot.  "The drive-in used to be a favorite hangout for the kids of the 50's, 60's and 70's," Sally recalls, "Now a days don't get as many teenagers.  Business is not as steady either.  Mondays and Tuesdays are slow, but it picks up the rest of the week.  Sundays we get church trade.  I think we have the best food in southern West Virginia."
Sally lost her husband in 1988, and now lives in an apartment.  Besides crocheting and embroidering in her spare time, Sally visits the mall and attends the Central United Baptist Church, where she has been a member since 1970.  She also enjoys baby-sitting with her great-grandchildren. Sally's daughters, Brenda and Karla, live in Massachusetts and New Jersey, respectively.  Sally spends Christmas and her summer vacations at her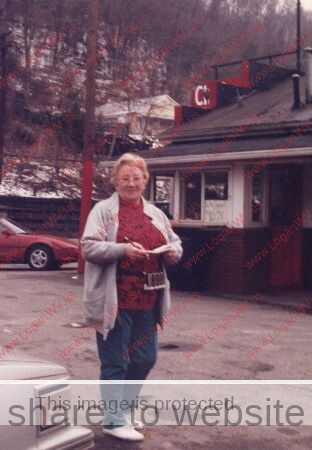 daughters homes enjoying treasured time with her grandchildren.  Sally feels the most interesting part of her job is meeting the variety of people.  "I've seen fights among the teens on Friday and Saturday nights, and one time an older couple got into a disagreement and the man dumped a shrimp dinner over his companions head.  He stomped off while she cleaned up the mess.  Then she calmly drove down the road to pick him up.  I've met doctors, lawyers, politicians, bank presidents, and once I did an order for Wally Fowler, a country singer from Nashville.  He was on his way to Man to a songfest in that area."
Sally's list of satisfied customers is long and she notes that they like and respect her.  West Virginia State Senator Earl Ray Tomblin summed it up best when he said, "She always has a smiling face.  She's cheerful and the best curb girl Logan has."
Despite being on the go from 4 p.m. to 10 p.m. daily except Wednesdays, Sally declares her life's been pretty good and she has no real complaints.  The only medications she takes is Tylenol for the occasional headache.  "I'd like to work until I'm eighty, but I feel like I'm getting too old,"  Sally continues, "I'm thinking of retiring soon, I'd miss all the people though.  My boss says to stay out here as long as I want to and we'll just take it from there".  "My children and friends think I may be the oldest curb girl in America," Sally chuckles.
---
Addendum
On August 13, 2002 Sally put away her order pad and retired after 47 years. Not really! On Morrison's Facebook page (December 2012), Sally is still working a couple nights a week. Hurray for Sally!