Scrip – Coal Miners Money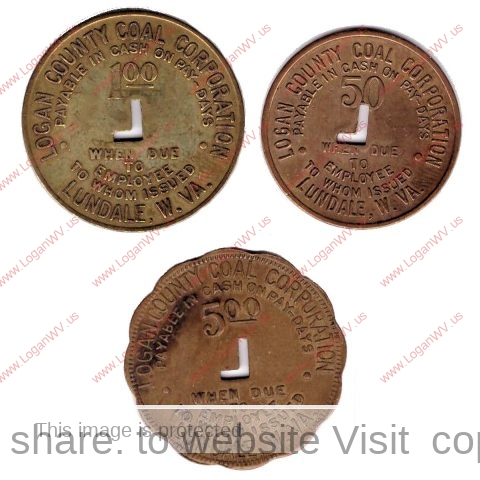 In the early days of coal mining, the miner became indebted to the company for everything from food and housing to the tools necessary to perform his job. He could draw scrip as an advance against his wages.
The Company built houses which were rented to their employees and general merchandise stores which sold everything the miner needed. As many of the coal camps were inaccessible except for the railroads, miners and their families had no choice but to use the Company Store and many times the miner had nothing left after paying rent and buying groceries and supplies.
Paper scrip was first used by the Coal Companies. Meta scrip was issued after a determination was made that the paper scrip was not durable. Many companies had an identification punch in the scrip to help the store clerk identify it as their own. Each Company had their own scrip and accepted no other.
Cola Company scrip was also accepted at local schools for lunches, theatres, churches and saloons. Other local merchants would accept the scrip also, but taking a 20% discount.
The best working areas in the mines were often given to the miner drawing the most scrip against his wages.  Refusing to draw scrip as pay for working in the mines, often meant early discharge.
All that remains of most of these coal camps are these token and memories of those who survived it.
*The above text is from a brochure received with a scrip purchased.
*Logan, WV History and Nostalgia is a non-profit website and is not supported by paid ads or donations.