The Buffalo Creek Disaster, February 26, 1972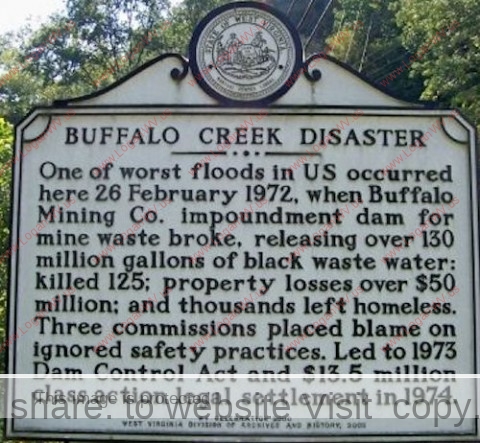 One of worst floods in US occurred here 26 February 1972, when Buffalo Mining Co. impoundment dam for mine waste broke, releasing over 130 million gallons of black waste water: killed 125; property losses over $50 million; and thousands left homeless. Three commissions placed blame on ignored safety practices. Led to 1973 Dam Control Act and $13.5 million class action legal settlement in 1974.
Buffalo Creek Flood Revisited – 10 Years Later

Buffalo Creek Flood 41 Years Later – Video project by Man High School's Environmental Science Class

 Coal dam break leads to flood.

I'd like to create a memorial gallery on this page to remember the victims of this terrible disaster so if anyone wants to submit any photos, please do so.
Related Links:
My special thanks to Pam Brennan for her assistance.
---
The Days Following