This was originally published on Martha Sparks' My West Virginia Mountain website and is reprinted here with her permission and our special thanks.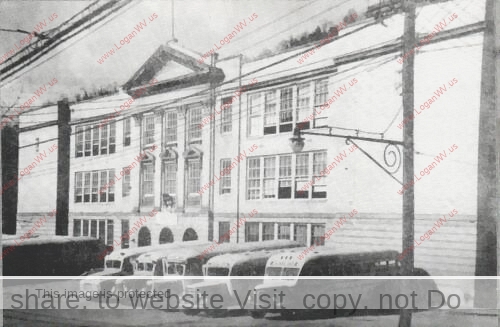 Logan High School
East Stratton Street
The first high school in Logan was organized August 28, 1911, in a building that was later to be known as Central Grade School. Mr. F.O. Woerner, was appointed principal. It was not until 1914, that the school became a first class high school. On June 2, 1915, a class of seven pupils graduated.
On September 1, 1921, the Board of Education of Logan District, purchased from John F. Ferrell, et ux, and W.B. Johnson, et ax, all of Lots 30-31-32-33-34 and 35, Bronson Addition to the City of Logan, for a new high school.
The primary high school of Logan County was built in 1922-23, being furnished in time for fall classes of 1923-24.
The school continued as Logan High School, educating area students of Logan, Holden, Omar, and surrounding communities from 1924 through the Class of 1957. At that time, a new larger, more modern high school and adjoining field house were completed on Midelburg Island, which is currently the present site of Logan High School.