This was originally published on Martha Sparks' My West Virginia Mountain website and is reprinted here with her permission and our special thanks.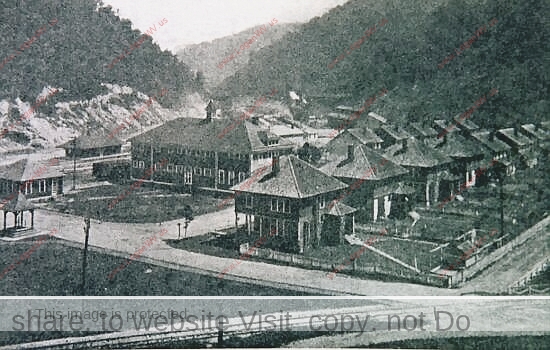 Holden, Logan County, WV
Once the Home of Former Champion Jack Dempsey
While it is true that William Harrison Dempsey, better known as "Jack" Dempsey, former heavyweight champion of the world, was born at Manassa, Colorado, June 24, 1895, he claims Logan as his native county, for it was here that his parents were born and in this community that spent his boyhood years.
Jack Dempsey is the son of Hiram and Celia Smoot Dempsey, both of whom were born on Island Creek, Logan County, West Virginia. Along about 1893, Hiram Dempsey removed his family to Colorado and they were living there when Jack was born, although his older brothers were born at Holden, on Island Creek, previous to their removal to Colorado. Burnie Dempsey, an older brother, was born in a house situated on the Holden road, just east of the railroad crossing at Holden, where a gasoline station is now located.
When Jack was yet a little fellow, about the age of five, the Dempseys returned to Logan County, and when Jack had grown older he secured a job in a ten-pin alley in the building on Main Street, in Logan, now used by Ed Oakley as salesroom for Dodge cars. Jack set up pins on one alley while Oza Avis, sporting editor of the Logan Banner, performed similar duties on the other side of the alley.
Jack had the "fighting bug" in his head at that time and was constantly talking of boxing bouts. He wanted to be a prize fighter, but people around Logan only laughed at the awkward country boy. He left the ten-pin alley and secured a job in the mines of the Gay Coal & Coke Company, one mile west of Logan, while his people were living at the mouth of Mud Fork of Island Creek. It is only fair to say that Jack did not break any coal loading records while he was employed in the mines. He worked under the supervision of Harry S. Gay, Jr.
Along about this time in his life, Pat Canepa of Logan was riding the waves of popularity in boxing circles as the champion prize fighter of West Virginia. Jack could not get any one to encourage him in the game, so he took the bit in his own teeth and challenged Canepa for a fight. Canepa accepted the challenge and it was arranged the the bout would be staged in Charleston.
Some few days previous to the scheduled bout, Jack Dempsey left Logan, bound for the capital city, with a pasteboard suit case containing about all the clothing he had. After arriving in Charleston, Canepa and his manager insisted that Dempsey post thirty dollars as a forfeit in case he took cold feet and did not appear.
Dempsey did not have the money and could not raise it. The fight was therefore canceled and the manager of the cheap class hotel, where Dempsey was stopping, threw him out for non-payment of his room rent. He still has Dempsey's cheap suit case. It is said that Dempsey went out into the city, spent his last dollar for a pint of liquor, caught a freight train and headed west. He was next heard from on the Pacific Coast where he was knocking every opponent for a row of country curves.
Jack returned a few years later and cordially greeted old friends, among whom were Harry Gay, Don Chafin, Oza Avis and others. He spoke kindly about his boyhood days here and stated he was going to return to Logan in the near future and spend a month hunting and fishing here, but he never arrived. In the person of Don Chaffin, former sheriff and Logan's most famous character, Jack Dempsey had an ardent admirer. Don attended every fight in which Dempsey had been matched and during the bout between Dempsey and Gibbons in Shelby, Montana, Chafin was sworn in as one of Dempsey's personal bodyguards.
Taken from Swain's "History of Logan County"