Mount Gay, Logan County, WV
Mount Gay was originally called Gay, West Virginia which derived its named from Harry S. Gay. Jr. owner of the Gay Coal & Coke Company. The Gay Coal & Coke Company opened the first mine in Logan County in 1904.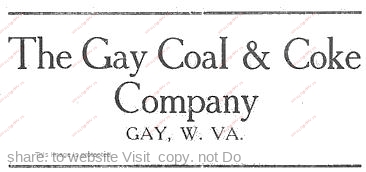 1916 Ad
Throughout the 1950s, everyone living at Mount Gay, Whites Addition, Cherry Tree, Fisher Bottom and Shamrock received their mail at the Mount Gay Post Office. Fisher Bottom was located adjacent to the lower end of Cherry Tree. In 1957, Fisher Bottom and the old Cherry Tree Grade School were demolished to make room for the Logan Blvd.
March 22, 1989 Logan Banner newspaper clipping "Harriet Sansom of Cherry Tree raises 38 children", courtesy of Cherrie Samson Nelson.
Cherry Tree, June 1988 courtesy of Bob Piros

Mount Gay Area Photo Gallery
∼∼∼
You may also like: