Logan County Tidbits of History and Facts
This page is a collection of short (only a paragraph or so) tidbits of facts and history about Logan County too small to post in a separate page. To contribute a bit of information or history about Logan County, please use the Contact Page or submit it via email to the admin at loganwv.us@gmail.com.
Originally, this page also served to post short articles about Logan County memories. However, a new page titled "Logan County Memories" was created to better serve this purpose. The posts about Logan County memories here were copied to the new page.
---
By Admin
July 24, 2013
Melville Mine Fire Kills Two
Thursday evening, January 19, 2006, a fire began at the mine and two miners did not made it out. Their bodies were found Saturday, January 21, 2006. The deceased miners were 33 year old Don Isreal Bragg and 47 year old Ellery "Elvis" Hatfield.
---
By Shelby Burgess
June 10, 2011
In reading the early mining days of Logan County, I learned the first coal mine near Logan was the mine owned by Harry S. Gay. The railroad had been built to Logan, but no spur line was yet built up Island creek. So, Harry hired wagon teams to haul the coal to Logan. This was about 1905.  Later, Aracoma mine started up; then Wilson Co. on the east end of Logan. The railroads opened up Logan County to future prosperity. The C&O railway later started up passenger trains, and people could travel much faster than before.
---
January 9, 2011
My mom says that in the 50's people would pack a picnic lunch and spend the day at a local cemetery. There would be other families there and the kids would all play while the adults visited and tended to the graves. It was a way of staying close to their lost loved ones as well as socializing with the neighbors.
She said the lunches were wonderful. Her mom would pack roast beef sandwiches made with huge slabs of roast beef on homemade bread and they would drink milk or water from jars that were kept cold in the creek.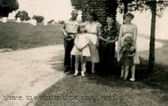 Back L-R: Uncle Toby, Anna (Saunders) Farley, Lloyd Farley, Edna Ruth (Farley) Mitchem
In front: Betty Jo (Farley) Brennan and Mary Ann Farley
---
By Frank Thompson:
August 22, 2010
Joanne Dru (January 31, 1922 – September 10, 1996) was an American film and television actress, best-known for such films as Red River and All the King's Men.  Born as Joan Letitia LaCock in Logan, West Virginia to Ralph and Jean LaCock, nee Macaro.
---
By Frank Thompson:
July 29, 2010
I remember my Dad using some expressions when I was growing up that were only particular to WV or some specifically to only Logan County. One was "I will do it directly." It took me some time to realize that this did not mean immediately but "later". Also when you'd asked him where he was going his answer would sometimes be "Naugatuck". This was like saying "none of your business". Another expression I recall hearing growing up in Logan was "Peach Creek below Logan". That meant a lady's slip was showing.
---
By Frank Thompson:
June 28, 2010
In 1955 when my brother was a baby, my mother used to sing him a little song that I thought she made up.  I later learned that it was part of an old Appalachian folk song.
Mom's song:
Ralph's got a girl who lives in a hollow
Hum dum de diddle o'day
Oh, she won't come and Ralph won't follow
Hum dum de diddle o'day
A song from the book "Christy" by Catherine Marshall:
"I've got a gal in the Buffalo Hollow
Hey-tank-toddle all the day,
Oh, she won't come and I won't follow,
And a hey-tank-toddle all the day."
Christy by Catherine Marshall (1914-1983) published in 1967 is about a nineteen-year-old girl that leaves home in 1912 to teach school in one-room school in Appalachia.  CBS created a TV series based on the book.
---
By Frank Adams:
April 17, 2010
Logan had several "big rocks" on top of the surrounding mountains. Ward Rock was up where WLOG and WVOW had placed their towers. There were large rock formations above Deskins Additions and I remember at one time the paper rumored that there were prehistoric animals up there. It turned out to be goats. The large rock formation above Midleburg Addition was known as Devil's Hole and you could get on top but it was difficult. The rock was noted for a large hole in the middle. I think the proposed new road to Man has cut into this hillside and it certainly is not the same. We spent a good bit of time on the hillside looking for grapevines to cut and then swing on. We would test them with the weight of two or three boys to insure that they were strong enough. All went well until the vine died about the third day and then it would break while you were over the great abyss. In the 50′s the Guyandotte was polluted with the washings from coal cleaning plants. It was jet black and in times of drought, almost ran like syrup. Untreated sewerage also was dumped into the river and game fish were non existent. The annual floods did serve a purpose of giving the river a good flush.
---
By Herbert (Porky) Blankenship:
April 13, 2010
When I was student at the Coal Branch grade school in 1949 or 1950, the white kids were invited to the black school for a May Day celebration. They had a May Pole with red and white streamers or ribbons attached to the top of the pole. All the kids danced around the pole, each holding a streamer, half were going clockwise and half going counter clockwise. When the pole was finished it had been woven top to bottom with red and white. Lunch of hot dogs and Kool Aid was served inside the school. I can't remember if there were two or four rooms but it seems to me like there were two large rooms. I was most impressed with the hot lunch. I don't know if they always served hot lunches or this was just a special occasion.