By Dwight Williamson
"It is my land and my corn—why can't I do with my crop whatever I please?"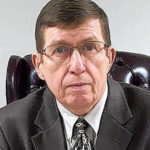 For years— before, during and after Prohibition— mountain people asked that question of its government, virtually to no avail. With the Appalachian mountain region always lending itself admirably to the making of moonshine, and Devil Anse Hatfield, himself, being an expert distiller, it is little wonder that several of his sons got into the liquor business in one way or another. Long before either one of the two Hatfield brothers, Tennis and Joe, became Logan County sheriffs, they were involved in the saloon business before Prohibition went into full effect in 1920.
In 1911, when Joe was 28 years-old and Tennis just 21, they were in Fayette County helping their older brothers Detroit "Troy", 40, and Elias, 36, run a popular saloon in a coal town named Boomer. Perhaps the younger Hatfield's were learning the saloon business for future purposes, as Tennis would in time go on to own and operate several saloon/bars, both legal and illegal. According to Enoch Shamblin, bartender for the Hatfield's in 1911—who in 1952 was interviewed for a story for the Charleston Daily Mail—before West Virginia adopted its prohibition amendment in 1912, barkeepers were hard to find because it was a dangerous occupation. Shamblin said he was paid $100 per month and that it was nothing for the bar to take in $3000 on coal miners' pay day. "Business through the week never fell below $300 a day either," Shamblin added.
Joe and Tennis' experience in Fayette County was short lived though, as both their older brothers were killed in an alcohol boundary dispute just three miles outside of Montgomery following an encounter with an Italian named Octavio Jerome.
The well-documented killings have been chronicled in various newspapers of that time. According to the Montgomery News, Octavio Jerome worked for the Cannelton Saloon that was located just a few miles from the Hatfield's establishment. Agreements were previously made by the saloon owners not to encroach upon the other's territory in the sale of beer and liquors, much of which was delivered to homes where orders had been placed. The Italian employee reportedly had violated the agreement several times and was previously "thrashed" by the Hatfield's, who felt they had given him a fair warning.
When Jerome continued to solicit orders at will from wherever he pleased, the Hatfield's went to a home where the Italian was located, and when told of his whereabouts in a back room, Elias walked to that door where he was immediately shot three times by the Italian. Troy stepped over his brother's body and was hit by three more shots from Jerome, who then ran out the back door. Known as "one of best marksmen in the country," Troy, despite being shot in the arm, took careful aim and brought the heavy Italian down with the first shot hitting the man in the back of the head—the bullet coming out through the left eye causing instant death. Hatfield, leaning against the house, put three more bullets into his adversary before slumping to the ground.
Elias reportedly died quickly, while Troy lived long enough to speak to his brother, Joe, then a resident of Boomer. Ironically, Elias had been a barkeeper 13 years earlier in 1898 at a Pike County, Kentucky location known as "Skinners." It was across the Tug River from there that Elias shot and killed a prominent Gilbert man, Humphrey "Doc" Ellis, who he blamed for an earlier arrest of his brother, Johnse, who was then jailed in Pikeville. Following an exchange of words on Independence Day of 1898 at a train stop 20 miles outside of Williamson, when the popular Ellis was on his way to be the special guest speaker for the July 4th event, Elias Hatfield shot and killed Ellis. Elias escaped back across the river to Kentucky, and he later would be found not guilty of murder on the grounds of self-defense.
Two floral covered caskets were placed on a train and taken to Huntington and from there by train to Main Island Creek near their home place where the brothers were later buried in the same grave at the Hatfield Cemetery. Devil Anse, then 71, and Levisa, 60, mourned the first deaths of their immediate family; two of 13 children born to the famous family. Ten years later, Devil Anse would be laid to rest near his two sons. His wife would join him there eight years later.
The obituary for Elias and Troy gave the addresses of their brothers, Johnson and Robert, as being Wharncliffe, while Joe's address was Boomer. Tennis and Willis both at the time lived at Herbertown, a small community also in Fayette County. All of the sisters, Mrs. Nancy Vance, Mrs. Mary Howes, Mrs. Bettie Caldwell and Mrs. Rosie Browning lived on Main Island Creek.
The deaths of their sons probably accounted for the reason the elderly Hatfield's chose to deed 200 acres each to Joe, Tennis and Willis December 12 of 1912. Perhaps they wanted their sons closer to home in the couple's aging days. From the legal descriptions of the deeds, Tennyson (Tennis), the youngest son, received the home place, while Joe received the property surrounding and including the Hatfield Cemetery. Willis's 200 acres was nearby.
When Don Chafin became sheriff in 1912 and later again in 1920, many of the Hatfield family became employed by the mighty sheriff. After Tennis Hatfield's testimony against him, and prior to Chafin's incarceration in 1925, in the general election of 1924, when Tennis sought the office of sheriff and while Chafin was looking at prison time, Chafin fought hard against the republican's election; so much so, that it was his illegal actions on Election Day that wound up making Tennis the sheriff. Though Chafin's help saw Emmett Scaggs narrowly defeated Hatfield, a West Virginia Supreme Court decision 16 months after the election gave the sheriff's office to Hatfield, after Mud Fork and Striker precincts were thrown out because of irregularities, mostly attributed to Don Chafin.
The legal works of his appeal, according to Hatfield, cost him $60,000, and back then the office of sheriff was limited to just one four-year term. After his brother, Joe, followed him as sheriff in 1928, Tennis sought the office of sheriff again in 1932, but was defeated. He again appealed the results declaring election fraud. However, this time he lost the appeal. The events leading up to his defeat will be explained at a later date.
Dwight Williamson is a contributing writer and a former reporter for The Logan Banner. He currently serves as a Logan County Magistrate.
*Published with the author's permission.
You may also like: Tennis Hatfield and the Blue Goose Saloon