By Dwight Williamson
This was originally published in the Logan Banner on July 30, 2014 and is republished here with the author's permission and our special thanks.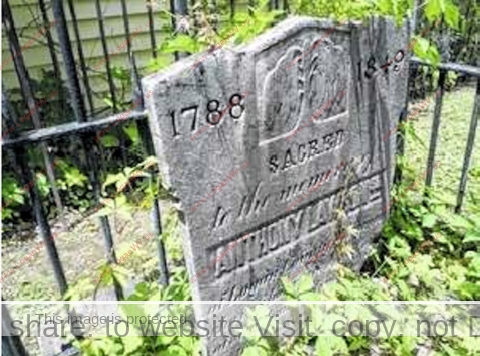 A Logan Banner story which appeared April 23 of this year concerning the historic cemetery located on High Street in Logan featured the grave site of one of the town's earliest citizens who was brutally murdered by two of her own slaves in 1847 when the small village was known as Lawnsville. Logan County itself had only been created 23 years earlier and its boundaries extended much farther than today.
Ann Lawson's grave is surrounded by a black iron rod fence which has withstood the test of time just as her family had undoubtedly wished. It is the oldest known grave in the cemetery and its historical significance is invaluable. Among other things, it proves that at least 14 years before the outbreak of the Civil War, some Logan citizens owned slaves. Since the town, which was also called Logan Court House at the time, was sparsely populated it is unlikely there were many other slaves utilized. From all accounts handed down for generations, the black person(s) allegedly responsible for Lawson's death at her age of sixty-four, were hanged even before there was a courthouse for any possible trial which would not have been likely any how.
Inscribed on her tombstone are these words: "Ann Lawson, wife of Anthony Lawson, of Logan County, Va., who was born in the parish of Longhorsby in the county of Northumberland, England on the 17th day of March A.D. 1783 Murdered on the night of the 17th of December, 1847 by two of her own slaves."
Mrs. Lawson was the wife of Anthony Lawson and the mother of four sons and one daughter. She was murdered eight day s before Christmas. Her pioneering husband was the first person to open a trading post in the village and his home was located where Logan City Hall currently operates. It has been incorrectly reported for generations that Mr. Lawson died in 1 84 6 while returning by riv er from Philadelphia where he had taken goods, including furs and ginseng, to sell and trade. Lawson developed cholera, a bacterial infection of the small intestines, of which at the time there was no anti-bacterial medications. He is buried in a historic cemetery in the community of Guyandotte in Cabell County near the very river which he had so often navigated.
Originally , it was only believed that Mr. Lawson was probably buried in that area because of the mere fact that he is not located near his wife in the local cemetery which is part of property which he owned. Thanks to the difficult and time consuming work of genealogist and historian, the late Eldean Wellman, this writer is now able to report the names of seventy-two persons buried in what Wellman described as the "Old Logan Cemetery." Annette Browning, who her husband Don describes as quite an enthusiastic genealogical researcher herself, supplied this writer with a copy of Wellman's works. It prompted this writer to finding the actual gravesite of Anthony Lawson. It also led to some surprises.
First, as his tombstone so distinctly displays, he succumbed to his illness in 1849, not 1846, as so many historians have previously reported. Lawson would have been 70 years old at the time of his demise and surely was not traveling alone. It is possible that one or more of his four sons — John, Lewis, James or Anthony — could have been traveling with him and was there to at least comfort his ailing soul. His corrected death date also means he was living when his wife was murdered.
Determined to at least spiritually reunite one of Logan County's historical spouses, I set out one Saturday for Cabell County in hopes of finding his grave. Having gone to college at Marshall, I was familiar with the area. Guyandotte, once a larger community than Huntington was, is not now somewhere one wants to venture to at night. As my wife and I crossed the bridge to the town during day light hours, the first thing noticeable on the left was a cemetery. Beside the cemetery was an old house which turned out to have been  listed on the National Register of Historic Places, June 1973. I hoped to locate the
gravesite at this location.
As a member of "Find a Grave's" website I located the names of many of those buried in the Guyandotte Cemetery. In addition, there was a picture which had been added by somebody named Phillip Conley. The photo showed the same type of iron fence as was placed at his grave. A quick viewing of the rather small graveyard did not reveal an iron fenced gravesite.
After at least thirty minutes, having traversed every road in the community and even asking locals the whereabouts of cemeteries, I became frustrated. Before leaving I at least wanted to find out the story behind the historical house and look at some of the Revolutionary War gravesites. A plaque near the  house explained the site. The house had been transported by flatboat from Gallipolis, Ohio in 1810. It was named the Historic Madie Carroll House because of an incident that occurred early in the Civil War.
Because of political sympathies toward the Confederacy, Union troops on November 11, 1861 burned nearly every house and structure in Guyandotte. Mary Madie Carroll, operating what was licensed as a "house of private entertainment" by her late husband, Thomas, barricaded herself and children in the brick kitchen of the house and refused to leave. The soldiers spared the house but burned the nearby barn.
I wandered into the cemetery which held much older graves than was the age of the historical house beside it. The tombstones were old, but well preserved, and the cemetery, which was fenced, appeared well kept. The grass had recently been mowed. There were no trees at the site. However, in a far corner of the cemetery, just as I prepared to turn my back and depart, I spotted what appeared to be a bush growing where there should be none. Suddenly, as I walked closer, I realized the black iron fence the weeds had been hiding all along, was indeed protecting the grave of Anthony Lawson. His tombstone was made exactly the same as his wife's. Inscribed at the top were the dates of 1788 and 1849. Below the dates of his birth and death were these words: "SACRED to the memory of Anthony Lawson Sr. of Logan County, Virginia, who was born at Stanton Co, of Northumberland England on the 31 day of October who on his return home from P"…… The stone has been broken on the lower right side where the last three lines of text used to read "who on his return from Philadelphia departed this life at Guyandotte."
One can only wonder as to why the keepers of the cemetery and historic house nearby would allow this one grave to become so over grown with vegetation. Is it because Lawson is from Logan and there are those that think his descendants should be doing the work? To my knowledge there are no descendants in Logan County. And the reason I know is as simple as this:
If there were any descendants remaining in Logan County, I do not believe the nearly one-acre cemetery here, which Lawson originally owned and which has held his beloved and murdered wife for 167 years, would be in the condition it is in. The Logan cemetery holds the remains of several Civil War veterans, including at least two members of the infamous Logan Wildcats who fought for the Confederacy, and one's wife who helped sew the Wildcat Flag that the unit fought under.
At least the Lawson's of Logan County are back together again…if only in the spiritual sense.
Dwight Williamson is a contributing writer and a former reporter for The Logan Banner. He currently serves as a Logan County Magistrate.
You may also enjoy this related article: The historic cemetery in Logan