By Dwight Williamson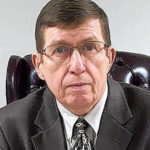 The events that formulate the subject matter of history have proven bountiful in Logan County. From times past when Aracoma and other Indians roamed our hills and valleys until the present day huge success of the million-to-one shot, Landau Eugene Murphy Jr., there is tremendous history that involves people and places in our mountainous domain. Some history, like "The Battle of Blair Mountain" and the "Hatfield and McCoy Feud," have for years drawn national interest. Here are a few other interesting things some readers may not know, or could have simply forgotten.
Multi-millionaire James "Buck" Harless was born at Taplin in Logan County in 1919, although he was more widely known as a Gilbert resident. Buck, who died Jan. 1, 2014 at the age of 94, was a huge contributor to WVU and Marshall Universities, as well as numerous other beneficial causes.
Joanne Dru, whose real name was Joan Letitia LaCock, was born in Logan in 1922, and was a renowned actress who appeared in such then popular movies as "She Wore a Yellow Ribbon", "All the King's Men," "Red River" "The Pride of St. Louis," and several other movies of the 1940's and 50's. She was the elder sister of Peter Marshall, who some may recall as the original host of the American game show "Hollywood Squares." She died in Beverly Hills, Ca. in 1966. Local theaters were always filled when the former Loganite was featured in a movie anywhere in this county.
Another person born in Logan, Lea Ann Parsley, made it big by becoming the United States' first female to win a world cup medal in skeleton skiing. She won the silver medal during the 2002 Salt Lake City Olympic Winter Games. Parsley is a direct descendant of the McCoy clan that was involved in the famous feud.
Many talented singers and musicians came from Logan County, including the likes of Dick Justice and Arnold and Ervin Williamson, better known as the Williamson Brothers. The brothers recorded several songs in the 1920's, and their version of "Gonna Die With a Hammer in My Hand" (a song about John Henry the steel driver), was reported as being the most popular version ever recorded. The brothers were inspired by another native Logan Countian born in 1891, Frank Hutchinson. Hutchinson is considered to be the first white rural guitarist to record blues music. A Logan coal miner before and after his music career, Hutchinson later served as the postmaster at Lake. He, along with Loganite Sherman Lawson, a fiddler, recorded numerous songs between 1926 and 1929. Hutchinson was best known as a slide guitar player. One of his songs was titled "Logan County Blues." He and his family reportedly lived above a store at Lake, and when the store burned down, they lost everything. He developed alcohol problems and worked on the Ohio River as a riverboat entertainer, dying of liver disease in a Dayton, Ohio hospital in 1945.
The most interesting musician to hail from Logan County was James Edward "Ed" Haley, who was born and raised at Trace Fork of Harts in 1885. Haley, who played fiddle, banjo, mandolin and piano, was blind. There is an interesting history involving Haley that has been written by local historian Brandon Ray Kirk; but, for now, I'll be content in describing Haley as simply amazing. He married a blind piano teacher in 1918 that played mandolin and accordion. Ed was one of the best known fiddlers in the Appalachian region and traveled widely through this area performing at dances, fairs, fiddle contests and other events. Another musical talent from Logan County was Bo Ratliff, known as a rockabilly and country music singer during the 1950'sand 60's. He was still performing gospel music with three of his daughters and two granddaughters just a few years ago. James Richard "Bo" Ratliff was born here in 1933.
From the Civil War on, Logan County has produced numerous military heroes. Old Logan Banners are filled with stories of heroic efforts of county residents, particularly during World War I and II. However, two Army sergeants— both of whom saved the lives of their men in Vietnam by falling on grenades that would have injured or killed men in their units— included Ted Belcher of Accoville, who died in 1966, and Frankie Molnar of Logan, who perished in 1967. Both received this nation's highest military decoration—the Medal of Honor.
When it comes to sports, there's Albert "Max" Butcher, who was born at Holden in 1910 and died at Man in 1957. Butcher was a major league pitcher for the Brooklyn Dodgers, Philadelphia Phillies and Pittsburgh Pirates. Max in 1941 went 17-12 with the Pirates that also included 19 complete games, something unheard of in today's baseball era.
What about a guy who only stood 5-11 and weighed 175 pounds, but averaged 29.1 per basketball game for Marshall University in the early 1950's? Walt Walowac, the son of a coal miner here, held the record for scoring at MU for 30 years. He was chosen as the 29th overall pick by the then Milwaukee Hawks in the 1954 NBA draft. Of course, there was Buffalo Creek's Charlie Cowan, who played 15 seasons (from 1961 to 1975) as a starting offensive lineman for the Los Angeles Rams in the NFL. Cowan, who was named to three Pro Bowl squads, participated in the league playoffs five seasons. He died in Los Angeles in 1998.
Crawley Creek's Shane Burton also played professional football. The Chapmanville product was a member of the Miami Dolphins, Chicago Bears, New York Jets, and the Carolina Panthers. After moving to North Carolina with his family, Burton graduated from high school there in 1992 and played college football at the University of Tennessee. He finished his eight-year NFL career with 146 tackles, 18 sacks, and three interceptions.
While on the subject of pro football, what about James "Bus" Cook? Born and raised at Man, Cook is an NFL sports agent, who has represented the likes of Brett Farve, Randy Moss, Jay Cutler, Cam Newton, Russell Wilson, Calvin Johnson, and numerous other big name players. I met Cook and Brett Farve several years back, when Cook brought him to Man and they were golfing at the now abandoned Triadelphia Country Club.
Speaking of golf, another fellow who hailed from Man was Archie Weldon "Buddy" Cook. Cook became a professional golfer and played on the PGA tour during the 1950's and the Senior Tour in the 1980's. Cook, who was the club pro at the Greenbrier from 1958 until 1972, won the West Virginia Open in 1985 at the age of 59.
There is no doubt that there are numerous other unheralded Logan Countians who have made their marks in different professions, including the business arena. And there are lesser individuals who should be mentioned— people like M.C. Charlie Byles from Logan who is credited with in the early 1930's creating the heirloom tomato plant known as the "mortgage lifter"—named so because monies made from the sale of the seed and plants helped ole' Charlie pay off the mortgage on his Depression era home. The plants will grow nine feet high and produce tomatoes that weigh as much as two pounds each. I grew them for years before realizing their local history.
And, how about this little known military fact: Harry D. Jeffries of Taplin had the distinction at the age of 14 as being the youngest person to enlist in the Army during World War I. The Logan boy ran away from home and went to Tennessee where there he lied when he gave his age as 17. Luckily, for Jeffries, the war came to an end just a few days after he had joined and became a member of the 23rd infantry unit.
Two people who by all means deserve recognition for their services—I'm proud to say— were friends of mine. Both the late Bill Abraham and Dan Dahill, among many other achievements, were fighter pilots during World War II. I've sat with both on different occasions and listened intently to their interesting stories. They have to be classified as military heroes. Bill has the Logan Bridge appropriately named for him, while Dahill should have something named for him, at least in my opinion. After all, Dahill, who left us at the age of 93 in 2013, graduated and from Notre Dame University, got a law degree from WVU, and in the 1950's served in our state's House of Delegates. During the early 1960's, he was our State Senator. Much later, he also was an assistant Logan County Prosecuting Attorney. Another outstanding sports representative from Logan County is Buffalo Creek's Chris Harvey, who was a three-year star and all-stater at Man High before 1999 walking on at the University of Miami, Florida where he excelled as a long snapper at center, executing flawlessly 18 field goal attempts, 50 punts and 58 extra point conversions kicks while being named as the team's most valuable walk-on player as a freshman. Harvey has the distinction of having played on what sports historians describe as "one of the greatest college football teams in history" that in 2002 won the National Championship by thrashing Nebraska 37-14 in the title game. The Hurricanes finished 12-0, and followed that up by losing the championship in 2003 in a controversial game against Ohio State. Harvey, no doubt, does not regret turning down offers from WVU, Wake Forest and Virginia Tech. After all, the former Hillbillie who now is head grid coach at a Clearwater, Fl. private high school that was 12-1 last year, appeared in the Orange, Fiesta, Sugar and Rose Bowls during his college days. Only former Miami players can make that statement. When thinking of achievements, we must also salute the magical talents of Logan's Michael Ammar, who is recognized as one of the world's greatest magicians. Among his many honors is having appeared on Johnny's Carson's "The Tonight Show", The Merv Griffin Show, CNN, The Travel Channel, and he even appeared at George W. Bush's Presidential inaugural banquet. Ammar has been described as the world's "go-to-source" for magic instruction.
Then there is Chapmanville's Danny Godby. Danny, a Logan County Commissioner since about 1989, was named Logan County's "Man of the Year" back in 1994. That, however, pales by comparison when one looks at what the highly motivated Christian has accomplished in proudly representing Logan County. A three-sport player all-star at Chapmanville and a walk-on baseball player at Bowling Green University, where in 1968 he was an honorable mention to the All-American team, Godby was overlooked in the major league baseball draft. However, he later signed as a free agent with the Cincinnati Reds, and taught and coached at Chapmanville during off-seasons.
During his tenure with the Reds, Godby, an outfielder, spent spring training with the likes of former Reds Pete Rose, Bernie Carbo, Hal McRae and Bobby Tolan, as well as other big-name players. Godby reportedly spent hours shagging baseballs for Cincy great Peter Edward Rose, who always took extra batting practice. With no room in the Reds outfield, Godby was traded to the St. Louis Cardinals during the 1971 off-season and flourished in the minor league system there until he was called up to the majors in 1974. His first hit came as a pinch-hitter Aug. 10 of that year when he slapped a single and later scored the winning run in a 13-inning Cardinals win against San Diego. During his playing days, Godby got to know such greats as Bob Gibson, Tim McCarver, Sparky Anderson, Lou Brock, and numerous other major league standouts. Danny ended his professional career after 10 seasons in 1977.
Now retired from teaching and coaching at Chapmanville, Godby, previously retired from there, but came back to help Logan High School basketball during the early '80's after turbulent times occurred following Logan great Willie Akers' retirement. After getting the LHS program back on track with two state tournament appearances, Godby returned to his alma mater in 1991, coaching basketball and baseball. He spent over 40 years in the educational system of Logan County.
One cannot overlook Godby's longtime friend and fellow Logan County Commissioner, Willie Akers, who has certainly left his mark on Logan County. Though Akers is not a native born Logan Countian, he has lived most of his life here where he has more than earned the respect and honors bestowed upon him, including his 2002 induction into the WVU Hall of Fame. Akers, along with teammate, friend, and former NBA great Jerry West, led the Mountaineers to the 1959 NCAA basketball finals in which the talented squad lost a 71-70 heartbreaker to California.
Willie played two professional seasons with the ABA's Cleveland Pipers, but it is his efforts at Logan High that stands out with the locals, who once packed the fieldhouse that now bears his name. The fist-in-hand coach ended an illustrious career with a 402-116 win-loss record, which included four Class AAA championships. He also served 10 years as assistant superintendent of Logan County Schools. Both he and Godby continue today as Logan County Commissioners.
There are many other Logan Countians who have made us proud over the years; not the least of whom are our current Governor Earl Ray Tomblin, and my own father, Carlos Williamson for his WWII efforts.
Of course, what the county can also boast about is its connection to one of the world's greatest heavyweight fighters, William Harrison "Jack" Dempsey. Jack, whose mother hails from Mud Fork, was born in Colorado in 1895, but was raised on a large farm that later became the community of Holden. As a young man he set pins at the local bowling alley and worked at Gay Coal Company. Dempsey, who was champion from 1919 until 1926, had a career record of 83-6, with 51 wins by knockouts. Legendary Logan Sheriff Don Chafin, who became friends with the champ when Jack was in Logan, traveled to many of his fights, and sometimes served as his bodyguard. Chafin, who loved to gamble, reportedly won a great deal of money by betting on Dempsey.
So, in a time when negativity seems to surround the coal fields, its leaders, and its people, perhaps we all should simply take in a deep breath of our good ole' Logan County air, and say, rather boisterously: "I sure am proud of my county and its people. We've accomplished more than most people know."
Dwight Williamson is a contributing writer and a former reporter for The Logan Banner. He currently serves as a Logan County Magistrate.
*Published with permission.